Who is to blame? (A Drug Wars Editorial)
December 18, 2012
Who do you think is responsible for the drug wars, the United States of America (USA) or Mexico? In my own opinion the USA is to blame. We haven't sealed our boarders securely. We keep the drug cartels in business. Also, there are ideas of legalizing drugs floating around. The USA is keeping the drug wars going.
Firstly, we don't seal our boarder well enough. There are lots of drugs coming through, 330 tons of cocaine, 20 tons of heroin, and 110 tons of meth all pass through the US border, so says "US War on Drugs Has Met None of its Goals:AP Impact." Also, 25 cents out of $100 is taken at the border. Our boarder is too large to keep under control at all hours of the day; our boarder is 8 states long. Our boarder isn't strong enough.
Also, we buy their drugs; therefore, keeping them in business. Twenty-five billion dollars are what the US gives to Mexico's economy through drugs. The more we buy, the more the cartels will fight to sell/use more drugs. The US basically allows the cartels to grow/make their drugs here, like they grow their drugs in our national parks. The drug users have lots; the US is their number one consumer.
Last but not least, there are people who want to legalize drugs. Obama, America's president has admitted to the use of drugs, so as I have inferred that he is basically making the average person think, "Hey our president used drugs, so, it must be okay for us too." Also, 14 states (US), have legalized the medical use of marijuana, many people can take advantage of that. Some illegal drugs are said to help with pain. They want to legalize drugs so that they don't have to clutter the jails and prisons with the drug users/sellers.
Although, some think that Mexico is to blame. Mexico is the supporter of the drugs, but we are the consumers. They sell it to stay out of poverty, but why can't they further their education and stay in school? Also, some of the participants in their government are involved in the drug cartels, why can't they try to sort out who is and who's not and get rid of the bad influences? Even though these are true America is the one who's feeding it.
All in all, the United States is to blame for the drug wars. Our boarder is "strong" but not enough to keep the drugs out. We purchase their drugs, keeping them in business. Also, some want drugs to be legal. Just look, it's all around us, whether you know it or not.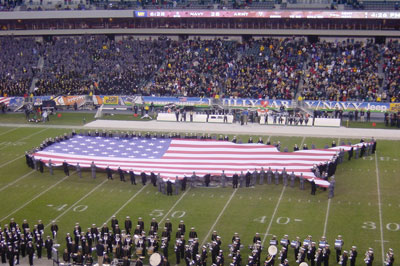 © Kristin B., Middletown, DE