Compelx
February 6, 2009
It seems like things get more complex, once you're in high school, okay not just things...Specifically relationships.
No longer are crushes just crushes, you're seriously trying to get a guy to call you, e-mail you, ask you out. It was simpler in middle school, maybe you'd brush against his arm, sitting next to him in class, or ask him to a dance, where you?d avoid each other most of the night. For me, at least, those things were very thrilling. The most action I got in middle school was slow dancing...which admittedly was amazing.
High school is a lot scarier. You see people making out in the halls, you hear about people doing more than that. Heck I've heard of kids doing stuff between the shelves in the library! What is up with that? Are they stupid? We have middle schoolers in the same building!
The pressure to have a boyfriend is intense. And you're supposed to have at least kissed a guy by ninth grade, right?
I've never even kissed a guy, let alone had a boyfriend. But I am way more selective than most girls. I know a lot of girls who are just like, "o he's cute, flirting time." Or "o he asked me out, therefore, I really like him."
It's ridiculous. How can you suddenly like a guy?
I admit my first real crush wasn't until seventh grade. Before that I was just friends with guys. In fact, some of my first friends were guys.
I know some people think you need to be like in love with someone-anyone- or you can't be happy. But I disagree. It took me years to notice that some guys are really cool and possibly amazing, but I still have a valid perspective. Guys are great, wonderful even. But some of my friends just have a boyfriend, and no identity beyond whose are they're on.
It's sad, and kind of worry-some. How can you're whole world be so wrapped around one person, when you're only a ninth or tenth grader?
I think people, or at least me, need more than that. I want to know who I am, then find a great, fantastic, wonderful guy. Not eye-candy (although hotness is good), just a guy, a guy who knows who he is, who cares about something. Who has his own life, hobbies etc.
It saddens me, those girls who need guys to be complete, because there is more to life than guys, as hard as it is to believe sometimes.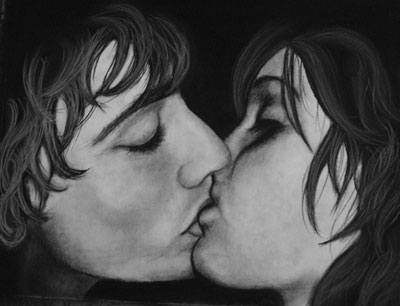 © Anna Y., St. Robert, MO