Where Does A Poet Come From?
September 7, 2013
Where does a poet come from? Is she created in a cocoon of silver and one hundred years later emerges speaking and writing words of gold? Or does she perhaps have to go through great tragedy to become who she is? The answer is neither. A poet is born on instinct alone and becomes great only with the help of those who touch her. There are 353,015 poets born each day. How many of them become good at poetry or take interest in it is entirely reliant on who and what they come into contact with.
I was born, and for the most part raised, in DFW. In the summer before sixth grade, I found my inner poet through E.A. Poe. Whenever I went to write a short story-it always ended in poem. When the time came for me to go to school and write my first essay, I added a poem to the end...my teacher was not impressed with my essay skills. Ms. Foster then became the object of my utmost dislike especially after making me sing 'Mary Had A Little Lamb' in the middle of the classroom for talking while the lesson was going on. I hated her just as much as I hated math- a subject in which I yearned to succeed, but always got a C. After a few days, she gave us a creative writing assignment. I read mine out loud, but skipped the poem I had written. These writing exercises became a normal routine I learned to love.
I soon forgot my dislike of Ms. Foster and started to enjoy my time in class more. Soon we reached our poetry unit, something that all the students either loved or hated. I for one loved it. Ms. Foster was always there to help me find alternative ways to say things and how to make a poem go along smoother. She even introduced me to a world I had yet to experience...the world of the poetry slam. My first slam experience was in her classroom and I was judged by my peers. I wrote a poem that meant something to me, in doing so I think I earned my score. My peers held up a: 9, 4, 5.5, 6, 4.2; lets just say the scores were swayed for who was most popular.
I don't know what it was that made me write again, but I know that the first person outside of my family I told was Ms. Foster. She had taught me so much in such a short time. From her class I learned how to disguise my meanings in verses that feel like silk as they glide across your tongue; and reach the ears of other where they get tangled in knots so fine they still like it without understanding what your saying. Morphing itself into a butterfly and staying in their minds I learned how to achieve a perfect ten.
Ms. Foster is attending one of my upcoming poetry slams, I started in August. Without her, I would have never learned how to stand up for what I believe in because that poetry slam in her classroom was the first time I ever did something like that and wasn't afraid of whose ears the words I was saying were going to reach. Without Ms. Foster I wouldn't be a writer, I wouldn't be poet. Without Ms. Foster, people would have never known the real me.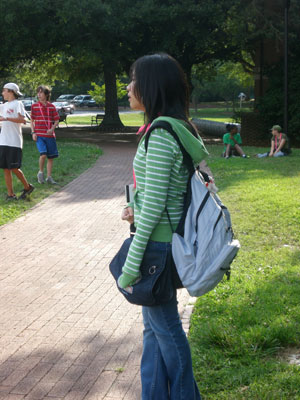 © Lucienne B., Parkland, FL