Heroes
January 26, 2010
September 11th 2001. The day in our history when thousands of men and women lost their lives. The day when many people lost their loved ones. The day when true heroes emerged out of the smoke infested collapsing buildings carrying people, whom they did not even personally know, just because they wanted to save lives. Sidney Sheldon once said, "...heroes are those who risk their lives every day to protect our world and make it a better place - police, firefighters and members of our armed forces." Courage seen in the many faces of our firefighters, soldiers, and policeman is a sheer amazement.

There are many different kinds of heroes. There are the doctors that wait patiently in hospitals to save the life of a stranger, the teachers that devote their life to instilling knowledge into the hundreds of minds of their students, the veterans that spent a lot of their life creating a free country we can depend on, and many more. An underlying motif seen in all these is, as Christopher Reeve once stated, "A hero is an ordinary individual who finds the strength to persevere and endure…." This can be seen in the lives of millions of parents. They do not complain when they bandage a cut knee. They do not criticize when you miss a move in your first dance recital. They do not ask for much in return, yet they give so much. I see my parents as heroes. They provide for me, guide me; they have done a great job, doing the best they can, even though they were not asked to.

Heroes can also be termed as the broad range of people that risk their lives to help other people. Our heroic armed forces voluntarily leave the sleeping face of their newborn child, the crying eyes of their wives, the proud and loving faces of their parents, so all Americans can have a better life. Many risk their lives every day overseas in the seemingly never-ending "War on Terrorism". There are also the people you walk past everyday in the supermarket; you just glance at, not thinking anything of them. The next day you walk out to your driveway and pick up the thick newspaper. You skim through until you see an article about a man who defended his family at gunpoint in a burglary, and came out victorious; the same man, you glanced at everyday, not thinking anything about. Heroes are not just fictional characters on television shows, but everyday people either risking their lives heroically on days such as September 11th, or trying to make a better life for themselves and the people around them.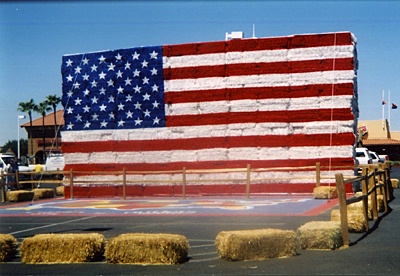 © Mary S., Grand Canyon, AZ