A Reflection on The Man with A Dream
January 18, 2015
"Sooner or later, all the people of the world will have to discover a way to live together." -Martin Luther King, Jr.
Martin Luther King, Jr.,also known as the man with a dream, was born on January 15, 1929 in Atlanta, Georgia, a city which would later become the battle ground of a campaign of nonviolence. As King grew up in his hometown, he was constantly bombarded with racism and the Jim Crow laws of segregation. Baffled, King grew up in his neighborhood as a gifted student and was admitted to Morehouse College at the age of 15 where he was going to study medicine and law. While at Morehouse, Dr. Benjamin Mays convinced King to follow his father's footprints by joining the clergy. In the end, Martin grew up to become a minister like his father. Using words from both the Bible and words he heard as a child, King easily became one of the biggest leaders of the Civil Rights Movement.
After the astonishing decision of the Brown v. Board of Education case of 1954, a window of opportunity opened for all minorities. With a victory for the black community, all that was needed was a spark and on December 1, 1955, it came. On a cold, December day, Rosa Parks, secretary of the NAACP, refused to give up her seat for a white man and was arrested. This event helped spark the Montgomery Bus Boycott which consiste of 381 days of nonviolence, resulting in another triumph. When the Supreme Court ruled segregated seating unconstitutional, Martin Luther King, Jr. had already emerged as an inspirational activist who was committed for equality for all. He spoke saying, "When the histroy books are written, someone will say there lived black people who had to courage to stand up for their rights."
However his work was constantly countered. In his famous letter titled, "Letter from Birmingham Jail," King addressed ight lergymenwho denounced his work as pointless. Through his grea use of pathos and his description of a Negro's life, King was able to illustrate his frustration and support his claim that justice has been denied to the Negro community. From his distinctive clergyman diction and rhetoric's, King was a natural speaker and his speeches were always a hit. In fact, his most famous address, "I Have a Dream," was not planned. According to sources at history.com, his 17 min. speech was actually a response to a woman who yelled, "Tell'em (mic) the dream," as his original speech was omitted.
After ten years of protests, Washington gladly relinquished segregation in the South to make America even greater. In 1964, Dr. Martin Luther King, Jr. won the Nobel Prize. After the Protest Movement in Selma, Alabama, the Voting Rights Act became law. Just about when everything looked great, Martin Luther King went out to Memphis, Tennessee to help out at a garbage collector's strike. On the second day, on April 4, 1968, he was shot. All of America, not just blacks, mourned. To this day, we celebrate his birthday as a National Holiday.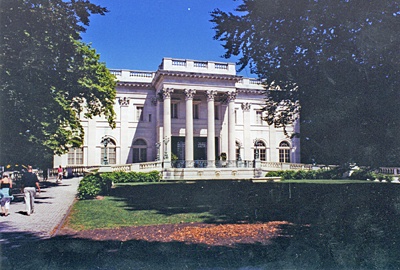 © Andrew S., Milford, CT