Perhaps I'll Never Be "Normal"
October 21, 2009
I am pondering; wondering. An infamous question, that has the entire world in a rut, I believe. This question says everything or nothing at all. It can mean someone's life, or simply a question, stated in a normal everyday conversation. The question, you ask?
Why.
One word, yet it means so much.
Background of me: diagnosed with Bipolar Disorder at age thirteen, it seems now… now it seems I have been plagued. Picking up ADHD, OCD, and possible PTSD (though I believe that was a false diagnosis) did not help either.
For years, I struggled. Between outburst of anger, running away, cutting, and even thoughts so bad that I wrote a suicide note… it all seemed horrible- again, a plague. And whenever it seemed it was better, when I started to feel normal again… I was hospitalized. Six times to be exact.
So back to the question…
I am one day fresh out of the hospital after hearing a man's voice in my head. "DO IT," he would say… yet I never knew what he meant to do. And upon arriving in the threshold of the hospital, it seems everyone knew me better than I did.

"So the voice was telling you to hurt yourself…." They would say, scribbling on those god-forsaken notebooks.

"No," I would answer honestly, yet even I could hear the anger in my voice. "It- the voice, I mean- would just say 'DO IT'."
The look I got back was one I had seen before… a look like I were to be telling a lie. Covering the scars on my arm I stated flatly- "Really, I don't know what it meant. Throw things? Hurt people, maybe? I don't know…"

My answer for everything- I don't know. Questions I want to avoid, or just drop the subject. Yet in the psychiatric unit, nothing seems to get by them.

I beg to differ.

You see, they try to diagnose us all with the usual- bipolar, depressed, angry. Categorized, Classified… split into our psychotic labels. But it seems that when a different or unusual case comes their way, they have no way of dealing with it, any better than we do ourselves.

I was told it was stressed, and all five of my medications were increased, and a sixth was added. To me, that means the usual, same old answer that I could give myself:

I don't know.

Yes, I'm at a point I believe they don't know. Not any better than these patients on the other side of the table know. We listen to these people, and trust them with our lives, literally. And perhaps they do care, but I cannot look at it any other way then a way to make money, a living. A degree in what they do- yes. Any clue of what it feels like? No.

So let me try to explain what I'm feeling now.

It's anger, more than anger. The feeling my head might just explode. I can hear, yet not really. The sounds are muffled, quiet. Yet annoyances such as the dog barking have me screaming like a lunatic. I breath heavily, my head aches. I run my fingers through my hair repeatedly, wishing I could tear it out. My foot has not stopped shaking, my body feels like its imploding, and that's just my physical problems…

. I want to punch something, throw something, jump off somewhere, or at least cut. But I can't, and I know this. I cannot disappoint my loved ones as I have in the past. But still, the urge, this uncontainable feeling-so strong, it takes over-it's there. My thoughts are in a jumble, a whirlwind of thoughts, urges, yet no sound or color. Like a silent horror movie.


My point is, I feel I should be cured, at least by now, if not years ago. But this disorder, if its even correctly diagnosed, seems to grow, like the AIDS virus. No way to cure it, only ways of treating it for short amounts of time until... another relapse.

I believe I cannot take this, I believe it isn't fair.

So the infamous question appears again here, when I was lying in my bed, curled with my knees hugged tight to my chest. Crying, I whispered…

Why? Why me? Why can't I be normal?

Perhaps I'll never be…

But…

Why?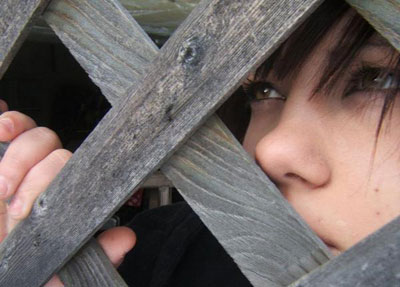 © Krystal B., Bloomingdale , IL