I Believe in Love
October 28, 2009
"You know I'll love you no matter what, and I'll always be there for you."
These are the words I've cherished for a very long time. This is the sentence that helped me through some of my roughest times. This sentence, my favorite of all, has been spoken, written, and demonstrated by the people I call my friends and family.

Many people I know think that the only form of love there is the type you see in lovey-dovey tear-jerker movies. Basically, the clique version Hollywood has hammered into our brains. However, I disagree. I love all my friends and family. But, that doesn't mean I want to run into their arms and get married. I just care about them greatly. And I know that they care about me as well.

When I was … years old I had one of the most catastrophically heart retching times of my 13 years. My best friend and greatest supporter died. My abuela, Maria Cesario died. My grandmother died.

One month after she was deceased we were talking about a certain topic in my class. I don't exactly remember what it was, but it reminded me of my abuela. The gaping hole in the middle of my heart that was torn open when she left had numbed a bit, but it was still there. Every memory, even the small ones, was like viciously stabbing at me with a searing hot poker and drenching it in the most acidic liquid ever. One simply sentence and I burst.

I could feel the tears ready to over flow through my eyes. I swiftly built a barrier to blockade my emotions in. I tried holding in my anguish for what seemed like an endless eternity. But in reality it was a mere three seconds. Then, I tried to slightly exhale. This was a mistake. Before I had the chance to build my dam once again, my emotions took control. And my conscious mind, which was telling me to stop, was completely and utterly over ruled.
Tears flooded from my eyes and streamed down my scarlet tinted face. For a split second all I could hear was absolute silence from both my classmates and teacher. I hastily took momentary glimpses of the people around me. Each and every pair or eyes where glued on my crimson, sodden face. I could taste the salt touched beads of grief filled tears on my lips as they seeped into my mouth I instantaneously departed from the room of intently looking eyes. I may not have been able to control the flow of emotions, but I was determined to hold on to what dignity I had left.
I retreated into the corner of the stairway, it was the first thing I thought of other than going into the bathroom, but that would have been all too obvious. To my surprise, my friend came looking for me first. When she did find me, which was only a trivial few seconds, she went on her knees next to me and gave me a huge hug. She kept murmuring soothing words to me in order to try and calm me. However, I kept contradicting her. Every time she said, "Everything is going to be ok. Don't worry." I would dispute with her. "How? How do you know it's all going to be ok? How can it?" I pleaded between my gasping breathes. She didn't give into my pessimism. After a minute of this, it began to help me compose myself.
My head was pounding at an excruciating rate, and my heart was hammering against my dampened chest.
My friend and I walked slowly, but steadily, back to our class. When we were within 3 feet of the door, she had me turn toward her. Her face was serene and stern all at once. In an even and caring voice she told me these exact words, "You know I'll love you no matter what, and I'll always be there for you." I steadily nodded my head. And with as much conviction as I truly felt within myself, I said, "I know, and I love you too. And thank you. I honestly, really needed that." "No problem." She said more lightheartedly than anything else she had said since I fled the room.
At that moment, I did actually believe every word she had told me. I did love her. And I know she loved me too. She to this day is still one of my closest friends, even though there is much more distance between us. I do believe in love. Just as I believe in true friendship. I still miss my abuela, which will never change.
However, I have become more optimistic about the situation. I know that one day I will se her again. We will be reunited, and I shall never have to shed a tear for not having her in my life once that day comes.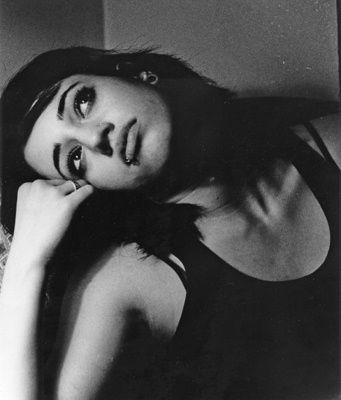 © Jessica B., Bethesda, MD