One Memory Can Last A Lifetime
December 19, 2009
Before I went to sleep last night, I folded my hands across my chest closed my eyes and prayed to God for my mother and I to have that special bond again like we did eight years ago. I miss the memories, I miss the love and the happiness, and I miss the person you used to be.

I been through a lot of rough patches in my life, but every patch that was torn my mother patched it up with her tender hugs, and warm kisses. The day I was born is the only memory I shared with my mom. After, my brother was born the bond between my mom and I was forgotten and never mentioned again.

When I was born, I was held tightly and admired by others but then I felt a tear on my cheek sliding down my face, I opened my eyes and I saw tears coming out of my mothers eyes, was she crying because I was a mistake? Or was she crying because she was happy? I never got my answer to that question. So as I lay in her soft and soothing arms she sings a lullaby as she keeps on calling me her little angel. She told me that God doesn't always have angels in Heaven he has some on Earth and one of them is me.

I try to smile but I couldn't because I didn't know how to so she just took my hands place her hand around my finger she held it tight with all of her strength, and kissed my hands saying good night. She wondered what I dreamed about, but all I can dream about is she. I lay so calmly looking into her beautiful face trying to make her sing again. The moment I saw her, was the moment I love her with all my heart, that there was no space for anyone else.

But all that changed mom, when my brother was born our bond broke, you were never there for my first bike ride or when I turned thirteen the beginning of my teen years or my first soccer game or when I cried at night and needed a shoulder to cry on, you were never there when I needed you.

We never made memories like best friends, like sisters, or like mother and daughter. You are so busy supporting us at home which is important but just for a minute sit with me and ask me how my day was or ask me why I am crying? Just because we fight, it doesn't mean I don't want you in my life. It means you need to be in my life. When I say I want to run away, doesn't mean I really do. Sometimes I think I hate you but in actually it's not even true.

I am your little girl, listen to what I have to say, always believe in me, have faith in me, and don't put me down. I'm your angel like you said when I was born remember! You have to remember because that's the only memory you shared with me. Sure I drive you crazy with my make believe games, or I would make you believe that fairies can fly planes. Sometimes I often come in with imaginary friends or draw you with permanent pens. Yeah I listen to stories of love and romance, and yeah I use you lipstick to draw a big sun all over the walls and down the settee. But I know you will remember the laugh and the joy you bought me on my face.

I came into your life and I captured your heart, and then from that time on I will never stay apart from you. You might keep your sons till he finds a wife but this daughter, your daughter is here forever in your life. Even if you don't win the title Mother of the Year and show everyone your love towards me, you will always wear the title Mother of the Year in my heart for always &forever.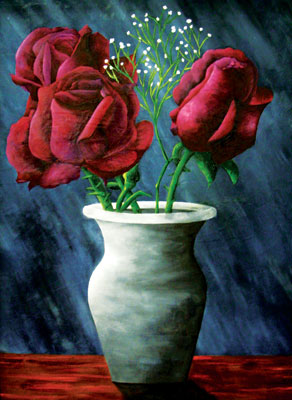 © Brandon S., LaFollette, TN