The Better Outcome
August 29, 2010
Sweat was clinging to my body, which is rare in the early summer Manitoba sun. My arms were stretched wide over my grandfather's body, as I hugged him goodbye.
"B-bye Sarah." My Grandfather stuttered in a very deep voice. "I'll see you in a few months."
I smiled up at him. "Sounds good, Papa." I responded. "Love you."
"Love you too."
I let go, and moved onto my Grandmother.
"Bye Honey." My Grandmother said very softly. She never uses my name or anyone else's for that matter. With her dementia, she doesn't really talk that much. But I love her anyways.
"Bye Nana." I hugged her petite body tight, hoping I'd be letting her know her its okay she doesn't know my name. "Love you."
"I Love you too."
I let go and ambled over to my mum's best friend's, Lori-Ann, car. We didn't live in Winnipeg, nor did we get to go to the Salisbury house restaurant (only in Manitoba) very often. Which, in all honesty, has the best hamburgers in the entire world.
I leaned next to the car, watching as my mum said her goodbyes to her parents.
I heard the shifting noise as all of the car doors became unlocked. I did a wave good-bye to my grandparents, and clamoured into the backseat. My mum climbed into the front passenger seat, Lori-Ann the driver.
I lifted my head over the back of the velvet seat, and watched my Grandfather slowly hobble over to their car, his cane in hand, and my grandmother, hand's behind her back as always, strolling along side my Grandfather. I smiled, looked away and sat properly in my seat, wondering what else we were doing that day.


A month later, July 29th to be exact, I was back home in Calgary, eating from my mums favourite restaurant, Brewster's.
I sat in my over-sized red comfy chair, happily eating my soup. I was secretly reading a comic under the table; because my Mum and Dad were talking about something I didn't really care about.
"Sarah, put the book away." My mum whispered sternly.
I rolled my eyes, but obediently put it away. Of course my parents continued their boring conversation, so I glanced around Brewsters, a restaurant I haven't been in since I moved to Nigeria.
It looks basically the same. Dark, with olive green walls, red carpet and dark wooden tables. Next to us however, is a massive stone fireplace. Of course, threes not a fire going, but I couldn't stop staring at it. This ominous feeling crept up my back, and I had shivers up my spine. I didn't know what to think, so I just ignored it. My parents finally moved on to a topic I knew something about, and we chatted and ate for the next 20 minutes.

Once in the parking lot, we all sauntered up to our 2003 Honda civic, and climbed in. I was looking out the window, watching the ancient trees in the Bonivista area. We were on Bonivista road, when my mum's phone rang. Now, it was weird because my mum picked up the phone, and my mum never picks up the phone when she's driving. But for some reason, she did. Now I could tell by the tone in her voice it was my Aunt Jackie, her sister who lives in Winnipeg. I'm not sure why, they've just never gotten along.
So she answers the phone, and I do this thing in my head where I picture the worst case scenario, because then if it's bad news my mum is getting, it won't seem nearly so bad because I've thought of a even worse scenario. So this time, I imagine my Grandfather died. I sort of chuckled to myself about this, because I honestly believed my Grandfather would be alive for a very long time. Since I was about 4, he's had 4 heart attacks, 4 different types of cancer, although when I was in grade 3 they were able to remove some of his cancer, plus he's overweight and has heart problems. And he is still able to walk around and go to the mall or movies and take care of my Grandmother. To me, my Grandfather is a miracle. I have so much respect for him, because he's been through so much.
My mum hangs up the phone and puts her hand back on the steering wheel, silent for what feels like forever.
Then, finally, in a slow crackly voice, she mutters, "My dad is dead."
My mouth opened. I stared out into space with disbelief. I couldn't believe it. I didn't believe it.
It was dead silence for the rest of the car-ride. We drove into the driveway, and I was still in shock. I walked up stairs, still in absolute disbelief. But when I sat on the couch, the scratchy material hitting my legs and arms, I took in a deep sigh. And cried.
I cried for what felt like hours. At some point during my crying session, my dad had lifted me on his knee, holding me tight. And I knew my mum was weeping in the kitchen because I could hear her soft sobs from afar.
When I stood up from my dad's knee, my face was red and my eyes were out of tears. The feeling of disbelief had returned, and I still didn't feel like he was truly dead.


My family and I flew out to Winnipeg, to deal with my Grandfathers funeral, apartment and will.
In movies, you always see how everyone is crying at the funeral and all dressed in black. Well, First of all, Funerals aren't the saddest part. At least not for the people closest to my Grandfather, like his granddaughters and daughters and wife, but the part afterwards, where you're looking through his stuff, and deciding what goes where. That's the saddest part. Second, I didn't wear black. Black is too depressing of a colour to wear to my grandpa's funeral.
But, if I had to say that one good thing came out of my Grandfathers death, it would have to be that the 2 weeks where we were in Winnipeg, going through my Grandfathers things and dealing with everything, my Grandmother was… normal. She didn't have to be told something over and over again, she remembered that he was dead; she talked and laughed unlike usual when she quite because she doesn't want anyone to tell her she's repeating herself. She was my Grandmother again. And I think that would have made my Grandfather really happy.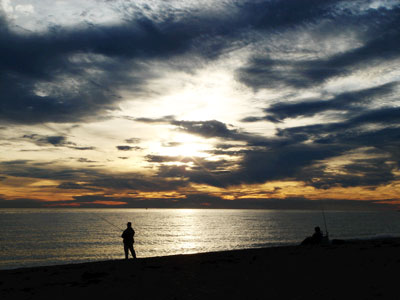 © Sarah C., Hillsdale, NJ