Monday Dawns
MAG
January 17, 2011
Monday arrives with the loud brrrring of the alarm clock. With cloudy eyes I look out the window at the dark sky, the morning before sunrise. I am cold as I drag my feet to the closet.

By the time I thump down the stairs, the feeling is settling in, the feeling that rises with the beginning of each week. The world is starting to buzz after the workless weekend; the rat race begins anew as adults with coffee breath and leather shoes step briskly to cars.

For me, it is another kind of rat race, the one that comes before you enter the real world. It is the race of school and grades and education. Who will cross the finish line first? Who will ace the tests, be the teacher's favorite, win the gold medal for highest GPA?

I glide through breakfast as if in a dream. I slide on my coat and jostle my backpack onto my shoulders. I wade with weary eyes out the door and to the bus stop. My breath dangles in front of me in the gray winter morning. I am cold as the bus pulls up to my driveway and pauses while I climb on.

The bus drops me and the others off like a delivery. We are herded here so we can become the future rats of the world. I know this is true, but I won't for long.

As I enter school, I can already feel the transformation taking place. My insides are changing, my mind reshaping its thoughts like molten metal. The weekend me is no longer there. While I walk down the stark white hallways, a new me cools and hardens. Now, with all my being but for no logical reason, I want to cross the finish line first.

But I still feel cold.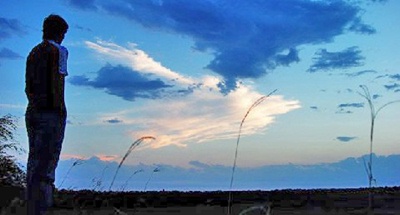 © Stefanie K., Katy, TX