Under Water
October 13, 2012
One of the most important events of my life happened when I was fifteen. It was a very special event that I will never forget for as long as I live.
At the beginning of the summer in 2011, I decided I wanted to get baptized. As I thought about my decision, it soon became clear it was the right one. When my dad asked if I wanted any specific preacher to baptize me, I was silenced for a moment. I hadn't thought of who I wanted to baptize me. Though the question was asked so suddenly, the answer came to me almost immediately.
"Brother Phelps," I told him, and saw in his eyes he agreed with my choice. Brother Phelps was the preacher who had married my parents, and it only felt right for him to be the one to baptize me.
I waited all summer, frequently pestering my dad with questions of "Has Brother Phelps called you back yet?" "Has he found a church to baptize me in?" and "Has he set a date?" Though I know my dad got aggravated at me for constantly bothering him, he never got mad, for he knew how important getting baptized was to me.
Finally the day came, and consequently was the first day of my sophomore year. I eagerly told the best of my friends as well as my favorite teacher, all fellow Christians, and invited all to come. All four being busy and unable to come didn't douse my glowing mood.
That night, me, my parents and both of my siblings went to the First Assembly of God in Brooklyn, where me and a few others were scheduled to be baptized. The only other person that came there to see me baptized was my Aunt Rose, but that didn't matter to me. It was a Wednesday night, so the church had a special sermon about the meaning and importance of baptism, and the story of John the Baptist baptizing Jesus was told.
When the preacher told those of us who were waiting to be baptized where to go, he also asked if anyone else would like to join us in our commitment. Two girls, sisters, joined us, one as young as seven, the other was closer to seventeen. Since I was the only one who had requested Brother Phelps to baptize me (the others wanted the Pastor of the church we were at), I was chosen to go first. As I made my way down the four steps and into the lukewarm water, I hear a woman whisper to her daughter, who was also getting baptized.
"Look at her blue shirt. That's going to look beautiful under the water." I smiled slightly as I heard this, and clasped the hands of Brother Phelps and the Pastor as they led me to the middle of the baptizing chamber. Brother Phelps took an index card out of his shirt pocket and read me some Bible verses as my parents got into a position to film my baptism. Brother Phelps then handed me a folded white cloth and told me to hold it over my nose with both hands. Then they lowered into the water. I don't remember anything of the next several seconds, though the video my mom filmed showed that my feet came off the floor almost as soon as my head touched the water. I remember walking up the steps, trembling from head to toe, and bursting into tears at the overwhelming feeling, though I wore a huge grin on my face. In my life, I have only felt the Holy Spirit that strongly a handful of times.
After everyone was baptized, we all stood at the front of the church while those who wanted to congratulate us formed a line around all the pews. I shook the hands and received hugs from so many people I lost count, as it was a fairly large church. The two people I distinctly remember, besides my family, were Brother Phelps and his wife, who both thanked me profusely for requesting Brother Phelps to baptize me.

This special event is forever burned into my heart, my mind, and my very being. Getting baptized changed my life, and I will never be the same as I was before.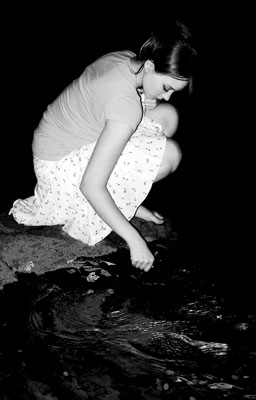 © Michelle B., Blairsville, GA