I'm Positive That It Will Get Better
April 25, 2019
A question that a lot of people ask me is, "How do you stay so positive?" I also get told that I'm "too positive" a lot. I'm not exactly sure what that means, but it doesn't bother me. In fact, I find it rather humurous. People treat positivity as a secret to life, or something that only certain people can obtain. However, everyone can benefit from a positive attitude. Sure it's a tough habit to get into, but once you have it, life doesn't get you down nearly as often.

Being positive wasn't something I was born with, nor was it something that came naturally to me. In fact, growing up I was the drama queen of the family. I think I made positive thinking a habit when I was in 6th grade. That was the year I started HAL, a high ability learners program that basically requires you to spend the year on one specific project. A couple times a semester, I spent the day in a trailer connected to an elementary school. I know it's not the most glamorous venue, but as a 6th grader, I thought it was the most awesome place I've ever been in despite the max temperature being 40 degrees. This trailer was filled to the brim with posters and quotes. On the walls of this trailer was where I found my life's motto. The quote was by Theodore Roosevelt, "When it rains look for rainbows, when it's dark look for stars". I liked it because it was a nice way to illustrate how to look on the bright side of things. It didn't take long from there to decide that I didn't like being upset and negative. It was difficult at first, but after practicing, I got the hang of it. I started with the statement "well at least..." For example, the weather may be cold, but at least it's not raining. I may have a test today, but at least it's multiple choice. I may have to get up early today, but at least I can see the sunrise. What better way to look at the bright side of things than to acknowlage the negative view point? At this point, it has become a permanent habit and I often times don't even see the negative side. I just see the "rainbows" or the "stars".
When I got into highschool, I had trouble wanting to get out of bed. Between marching band in the morning, my work load, and showchoir, I wasn't getting enough sleep. It was in these times that my stress skyrocketed. To cope with this, I came up with a little "game". Every morning I came up with as many things I can look forward to as I possibly could. I started with being thankful that I was one step closer to the weekend, then for being able to see my friends at lunch, then I looked forward to singing in choir, then writing in creative writing, and seeing my teachers. I've gotten so good at this game, that I am now able to spin any test into a positive light, which is that I no longer have to study for it.

You may be asking yourself why. Why be positive when just going through the motions is so much easier? I know I get asked that a lot. I don't really have a good answer except that I no longer feel like I have a choice in the matter anymore. Sometimes life gets you down so much that the only way to get back up is to look for that light at the end of the tunnel. And if you can't find a light, then you need to make your own. I have made it my life's purpose to be that light in as many lives as I can. I'm trying my best to teach people how to be positive so they can be happy on their own. The other day, my boyfriend told me that he has been working hard to look on the bright side of things because of me. It makes me extremely proud to see the progress he's made. I am happy that I was able to rub off on him, even if it's something as small as replacing a negative sentence with a positive one. Sometimes that's all it takes to change someones life. I know it changed mine, and this is how I'll change the world. One person at a time.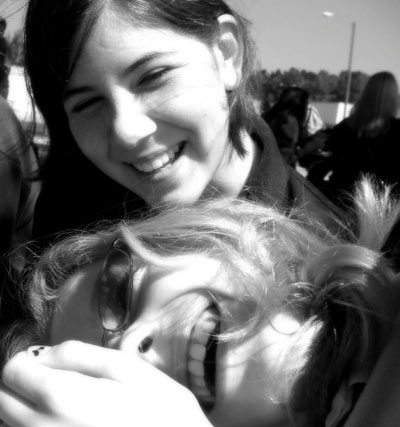 © Nita T., Wendell, NC