The Weeds Of Reality
September 30, 2009
It had finally come! The time that I would spend the weekend at my friend's cabin. I was so excited, but I was not expecting what was about to happen.

We went fishing on the dock, roasted marshmallows, and told ghost stories. Everything was normal. Or so I thought.

When I caught a fish and, not knowing how to take it off the hook, I handed it to Riley, my friend's sister. She had the line but then it slipped out of her hands. The fish landed right by me! I backed up, frightened. Not realizing I'd already reached the limits of the dock, I fell into the deep lake. This wouldn't have been so bad if I was wearing a swimming suit, and I was, under my gigantic sweatshirt! The weight of my shirt held me down as if I was nailed to the bottom of the lake. I was not able to take a hammer and set me free, this time. I remember the hands, reaching for me franticly. I was reaching for them too. I hadn't realized until later that I was tangled in the weeds of the lake. I felt their slimy bodies wind up my leg and held on with a tight grip. I was running out of oxygen, but I pushed harder.

I finally broke through the blackness of death, threatening to swallow me whole. I took some deep breaths and assured everyone that I was fine. Her mom still comforted me and we sat by the fire. My friend and her sister didn't seem as concerned, but their mom definitely was. Throughout the night, she gave me worried glances and I responded with a shake of my head, telling her I was fine.

This was not a life changing experience, no. But I did get a better view of the meaning of life.

I realized that what happened brought on whole new meaning. "If you run away from your fears, you are going to end up getting tangled in the weeds of reality." The weeds meaning, people, fears and even all the things you enjoy. When you entangle yourself around your fears and what's all around you, you can't branch out and realize what your future beholds. As I was with the fish, I was so worried that if the fish landed by me, something was going to happen. But I wasn't looking at the immediate future. That is where people need to look.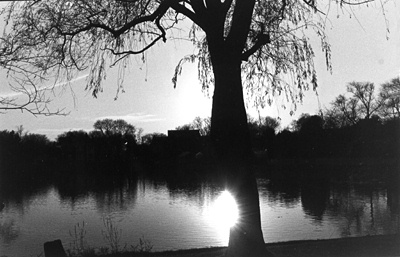 © Chuck K., Marblehead, MA