Linde
November 14, 2009
Have you ever been so in love that you don't even remember how to walk? Like this one girl just takes your breath away and leaves you completely and utterly perplexed. It sounds strange, but to you, she is summer. Like without her, summer would not even exist. And vice versa. And though you feel bad for the polar bears, you can't help feeling excited for global warming, just a little, because it seems like that should keep summer alive forever. It should keep
her alive forever. And you just love everything about her. Like the way her lips taste like papaya, even though she uses mint lip balm. You love how her laugh is so piercing, yet soft at the same time and it seems to almost fill the entire room with the music of her very soul. And how she always smells like roses. Always. Even when she's wearing ridiculous amounts of perfume, somewhere in the background, you still smell those roses, like they'll always be there no matter what. Just like her. But she's not. Not really. She's always just out of reach because you know she doesn't feel that way. You're just friends. You'll always be just friends. But what she doesn't know is that you're absolutely, completely, 100%, rip-your-heart-out-and-hand-it-over in love with her. And you don't even know how this one girl can leave you feeling so complete, yet so empty; so broken at the same time – how she can just breathe and take over your life, yet still be totally unreachable. And the really funny thing is, she doesn't even know it! She's so close, yet so far away. And it's so hard to understand how something so beautiful, so perfect, can just walk straight into your life and be so close to you, yet you can never quite seem to reach it.

Have you ever felt that way? I have.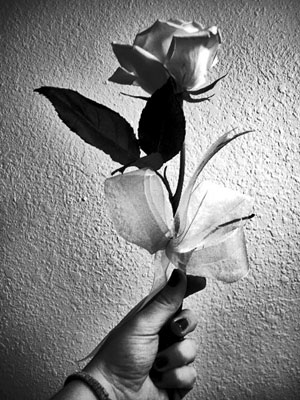 © Lauren R., Edmond, OK