Cranberries
January 9, 2010
I watched sadly as the line of scraggly homeless people stumbled out the glass door of my church fellowship hall. Families trudged across the patterned carpet, children, adults, and grandparents filed through the door, back to the poverty from which they came. However, there was a different quality to them that I hadn't seen before they stepped into the building; I could tell that they were happier, more hopeful. They mingled and talked to the volunteers as they made their way out, faces brighter, smiling, and laughing. I remembered the thoughts I had before they walked through that door. How could I ever have been so insensitive? I had no idea the impact that their presence had on me until they were leaving. I turned away, suddenly melancholy, my mind wandering back to their arrival.

I was frightened, to say the least. I stood inside our church, leaning against a table with a cheery fall tablecloth that seemed far too superfluous for the occasion. How could we blatantly display this waste of money to people who don't even have a roof over their heads? Volunteers scampered around the large, light room, adding final Thanksgiving- themed festoons everywhere around me, but I was glued in place. How am I supposed to treat someone who has so little when I have so much? Everything was so unknown and foreign; my mind was burning with unanswered questions that sounded too naïve and childish to voice. Would they be friendly? How many were coming? What would they sound like? What would they smell like? I realized that I had no idea how to act in this situation, and it caught me off guard. However, I didn't have much time to prepare myself, because at that very moment, the first guest walked in. I lingered in the corner until the very last moment, watching him limp through the entryway, and then ventured forward to pull out chairs for the multitudinous crowd gathering in the fellowship hall.

However, by the time I had taken a few steps from my safe corner, our pastor stepped up to the microphone at the head of the room and began to utter a word of welcome.

"Hello to all of our guests today, and we are so glad that you could join us for this special Thanksgiving feast," he began. "If everyone could please stop and bow their heads, I would like to say a prayer to the Lord for allowing us to all be here this day," he continued.

My mind immediately began to wander back to the insecurities I had dwelled on all morning. I bowed my head, but I wasn't listening. I followed my own tangent of thought until I realized what I was doing and forced my way back to reality to hear the end of the prayer. "And thank you, Lord, for blessing us with all of this food and good company here today. May we serve you in this meal, and may you speak to every person here today. Amen," he finished.

"Amen," the crowd mumbled in chorus. I took a deep breath and looked around for a way to make myself useful. All of a sudden I felt a hand on my back. I turned around to stare into the face of my Sunday school teacher, holding out a pair of plastic gloves.

"Would you mind working behind the counter? There's a spot at the cranberry sauce," she smiled.

"Sure," I replied, taking the gloves, happy for a way to serve that would barely put me in two seconds of contact with each visitor. It flustered me that I was not being accepting and willing to learn from this experience, but I pushed that feeling deep inside myself and walked over to the other side of the room to ladle out the succulent maroon substance. I took a deep breath and prepared for my first person.
He was an old, weathered man, African-American, with a fuzzy gray beard and overgrown eyebrows. The skin on his face was sagging around his mouth, masking a sparse collection of yellowed, crooked teeth. He wore threadbare rags, too many layers for the mild weather, and faded white athletic shoes. Quietly declining my decadent sauce with a polite, barely detectable shake of the head, he moved on to adorn his turkey with gravy instead. After him came many more people of all races and sizes: children, adults, men, women, and infants – they filed through the line and began finding their places at the round tables positioned throughout the room. Each one was as kind as the first – no one bothered me, they all just seemed happy to be there. I began loosening up, and at the same time berating myself for my callous, insensitive behavior, although it was only in my head. I felt awful – here I was, so privileged, and yet I whined and fretted over a simple opportunity to help someone else. Although I was ashamed, I was also starting to realize that I was blessed in so many ways that I had never even imagined. After seeing the intense need of these people who owned basically nothing, I spooned sauce more zealously onto the outstretched Styrofoam plates, trying to connect with each person. I saw poverty literally pass before my eyes in the form of the food line, and I felt spoiled and ungrateful, unable to see beyond my own myopia and intolerance. I realized with a start that I was even more appalling than I had thought before, for I was given a chance to share God with someone else and was close to not taking it. Here I was with the perfect opportunity to help others and share the message of Christ, and I had been worried about myself; didn't Jesus say, "Whatever you do to the least of these, you do to me"?

I turned over my serving spoon only when everyone had finished third and fourth helpings, clinging to my duty until I could see the bottom of the big clear bowl I was scooping from, holding on to the hope that one more person might have a need for cranberries. I had seen that they were less troubled than they were when they came in, and I longed to see the bright look on someone's face one more time. It was only when I saw everyone lining up for the bus that I accepted the cessation and reluctantly placed the ladle in the sink.

I sighed, returning from my reverie back to the present as the last few people walked out of the door – a little girl holding her mother's hand, tottering along, with a grubby face and shabby clothes. It made me glad that I had helped them maybe in some way to receive the gospel and enjoy the holiday. I realized today that Thanksgiving is more than just pumpkin pie; it is really a time to praise God for everything he has blessed us with. I understood that this experience completely changed my view on the world and made me much more grateful for everything that I have been granted. Although it might look like I had been the one helping the homeless people who came to our church on Thanksgiving, I know that they are truly the ones who helped me.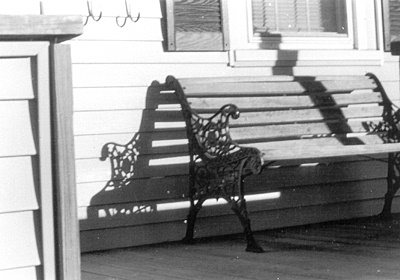 © Lauren O'D., Weymouth, MA