Published
March 4, 2010
"You getting published in the paper is more important than sitting on your butt watching a movie with your friends," my mom had said.

There were over a hundred things I could have replied with, starting with, "What?"

I write for my newspaper in a teen writing program. The stories often are boring, crappy, and filled with repetitive crapshoot transitions. I liked hanging out with the people there, and they were nice. Writing was easy, and it was cool to get published- unless someone who you knew noticed you were published. Then you wouldn't live it down for, oh, say, the rest of your life.

Back to my conversation with my mother. The meetings for the program were inconveniently on Fridays, at the same time my friends planned to see an early movie before going out to a coffee house to watch terrible local bands. That was my conflict. And my friends needed me. One of them just broke up with their boyfriend. Another got permission-for the first time ever- to go to the coffee house with us.

I was opting out of the writing session- just for today. I'd go to the next trillion meetings no matter what. But my mom didn't work like that. She believed in commitment. Surprisingly, she didn't use that angle today. She began talking about how important this program was, and how getting published was more important than anything; even friends that get locked in their basement or break up with their boyfriends.

College was the word she threw around, saying that this program would give me access to elite schools across the country; how I could get a scholarship. "Getting published in the paper is more important," she had said.

I had never thought about it like that. I had never thought of using writing as a tool. As something that I could use to take myself places. I always thought that I would just… write, and then my words would be the ones taking me places. I wrote at the paper just for fun. Writing for the paper is great, but I wouldn't mind if my pieces weren't published. I couldn't care less whether my name and picture were stuck to a story printed in a powdery black and white.

As long as I was writing, I knew I'd be ok. Besides, I'm a freshman. I'd rather be ignorant to colleges than to be worrying about them. This is my first year at high school. I want to enjoy it. I want to live it. I want to write it.

My mom doesn't see that though. She doesn't see emotion in passages. She sees a girl with an interest in writing, and she wants to stretch and use it for all its worth, especially if its going to knock a few hundred dollars off of a college tuition. She didn't care that this was my dream. She was glad it was a useful interest, that's all. If I had told her that I had a passion for rock climbing, and I wanted to go to the wall up-state every weekend, she would have laughed in my face, I just know it.

So there I go, missing out on a single night with my single friends having fun like a freshman should, because apparently, school is important. And if I'm going to get into a good college, I should attend every boring meeting, so I can impress a few big heads and get a scholarship. Then… god, I don't even know what then. What am I supposed to do after college?

You know, I'm probably going to be a science major.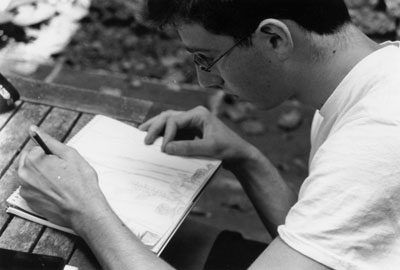 © Kira L., Bethesda, MD