To Play My Music
May 15, 2010
I walk up the white tile floor, toward the metal stand. My hands feel clammy as they grip my flute. "Here it goes" I think to myself. My black shoes leave a smudge on the white tile; this causes my steps to falter. Then I look up, I see my teacher standing in the background, and it is as if she were outlined in coal. She nods her head and I smile at her, my confidence restored. I turn about on one heel, my gray skirt flaring out. I hear my piano accompaniment begin, the fingers flowing over the white and black ivory keys, I lift my flute and begin to play.
The music is inside of me, my fingers fly and I am filled with joy. I have practiced this song for months, with my teacher behind and before me. Sometimes she would smile. "Good job" she will say, "Thank you," I return. Sometimes she would frown, her eyebrows a black line in her pale face, "You are not reaching your potential" she growls, tapping her foot, "I will do better," I promise. My song is alive, it plays with me like a kitten, prancing away only to return and wrap around me with a purr. My fingers stop, my breath breaks off, my song is ended. I look at the judge.
The judge looks somber, his salt-and-pepper gelled hair sticking together in clumps, his horn-rimmed glasses slightly askew, and his black and blue tie with a small brown stain. These imperfections stand out in my mind as I walk towards him, afraid of him in a way, for it is he who decides the outcome of my work. Then his face changes, he smiles, and starts to clap. Slowly, like a trickle of water becoming a raging river, people start to applaud me. I turn my head, my hair flows away from my face; I look to my teacher, standing behind me, "Thank you" I mouth to her. She simply smiles, and raises one hand.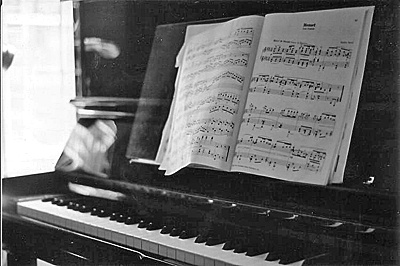 © Amy C., Portland , ME