An Explanation
MAG
May 25, 2010
I need a story, you see. That's why I have so much energy and no outlet for it. That's why my thoughts thrash around in my skull in dark and light and blue, with textures ranging from silky to metallic to straw weave.

That's why I want to run and yell with pent-up joy and frustration and sheer energy, but can't (because honestly, that would just look weird). That's why I can't sleep even when I'm dead tired. My thoughts are too fast, frenetic. That's why I pace.

I need a story, you see. That's why, behind my eyes, I see scenes of fighting and joy and random snatches of lives. That's why every mundane sound morphs into a gunshot or yell or wild song, why a simple drive becomes a car chase and an ordinary envelope becomes something much more sinister. That's why I hear conversations between characters, shouted in a panic or whispered softly or hardly finished for laughter. I don't know what they're laughing at – which is why I need a story.

Why? I've got to focus this energy, or it will tear me apart. A major reason. Trace amounts of adrenaline flutter through my veins constantly, and I no use for it. I'm dying to be in my element, in front of the keyboard, where I belong. I'm itching to take these ideas and words and carve something worthwhile out of them. It's one of the elementary laws of the universe: A painter has to paint. A chef has to cook. An athlete has to run. And I have to write.

The second reason, now. I think I already mentioned the fragmented sounds and sights running in my head like a slow and controlled explosion. I need to know why. I'm dying to find out why that airplane fills him with a sense of dread. I want to figure out what exactly it's running from in the night with a smoke-yellowed moon. I don't know why she's laughing alone under a tree. And then there's that huge tumult raging in the background, and yelling that (somehow) is both panicked and controlled at the same time: "I can't, sir! We're out of …" Out of what? Range? The water? Ammo? Time? How does the conversation end? And why?

Without a story, I'll never know. And I can't use it, and I can't sleep at night for wondering and energy. I won't have the plot between my teeth and the spacebar beneath my thumb.

And that's just not what I'll settle for.

So I need a story, you see.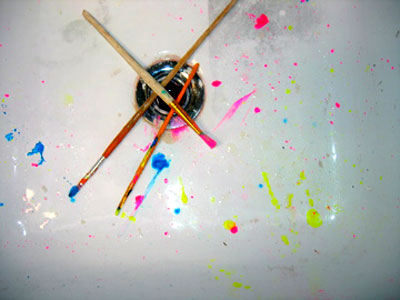 © Chelsea H., Carlsbad, CA