The Hike at Camp Shiloh
September 18, 2010
Camp Shiloh is one of my favorite places to visit. There are various reasons why I like it, but one of the main reasons is it's emphasis on nature. This year for the first time, my youth group went on a hike up a mountain.
The mountain is not so high. It only takes about fifteen minutes to climb. It is a pleasant trek up, the dry brown leaves crunching beneath our feet, the towering oak trees looming above us, an unseen woodpecker knocking at a tree to catch a bug.
The terrains differ widely. One starts out on a steep, narrow, grassy path, crawl over huge, gray, mossy boulders, and stroll along a wide leafy plain.
Near the end of the trail, the path turns thin and steep, and one must be very careful not to fall off the edge. Delicate pink and yellow flowers are scattered along the way. They are so cheery, it is as if they're cheering, "Keep going! You're almost there! Don't give up!"
When the group finally reaches the top, the view leaves us breathless. The Hudson River runs around in a semi-circle like a horseshoe, motorboats appearing no larger than your pinkie nail. The land on the opposite side of the river looks like a v-shaped swatch of moss. Except instead of moss, you are really looking at twenty-foot trees! My eye is caught by red-winged falcons and fish hawks. Then I realize—they're flying below me! The height is so dizzying, we were afraid we might fall off the precipice if we did not sit down. The only spot to sit is an uneven slate-lie slab of rock, but after the hike, any place is good enough to sit. The rock is on a steep slant, but there are places to park oneself where it is more even and there is less of a chance of plummeting to the depths below.
Looking out at the river, the peak of the mountain is behind and above us, but no one wants to leave the majestic view to keep climbing upward, the path now a mixture of huge slabs of gray stone and grass. The pinnacle is not nearly as amazing as the sight of the river. The summit only has dry yellow grass, a few rhododendron bushes, large beech trees, scrawny birch trees and an enormous boulder that appears to have been there from the beginning of time. However, we all know we'll go back to that spot year after year and re-live the memories of years past until we are all too old to go to camp.
With a resigned sigh, we all take one last look at God's magnificent creation and head back down the mountain to have dinner.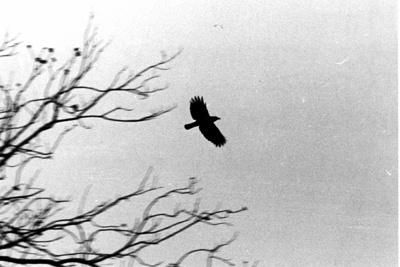 © Jacqueline T., Flowermound, TX