His Five Words
December 13, 2010
There is a bridge in life that you have to cross. A bridge that begins in ignorance and ends in your maturity. A bridge that lets you realize a little too clearly that life on Earth does not go on forever. A bridge that made me realize that being strong does not necessarily mean that you can bench 225 pounds without breaking a sweat but, that being strong means you can go on trying and believing even when your whole world crashes down in front of you.
The happiest day of my family's life was March 1, 2007. My father stood on a dimly lighted stage next to Lieutenant General Dubix and retired from 22 years in the army as a MSG. I will remember my father's huge grin and their hand shake that set him free to spend the rest of his life with my mom, brother, and I for the rest of my life.
I never saw my father very much through my young years, and when he was home at that time I was too small to remember. Don't get me wrong, I was proud of him serving his county and I am grateful for our troops, but I finally wanted my father home.
I sat quietly in the car on our way home. Slowly crawling down the highway and back roads I imagined us watching TV and joking on a rainy day, or fishing in the hot summer sun together. My father also promised my brother and I a tree house.
A little girl age 11 had to change all those plans on May 9, 2007. Just two months after my father was home he became very sick and was diagnosed with stage four gastric cancer, (for those who don't know the stages only go from 1-5.) At this time I was still too young to understand what it all truly meant, but I understood it caused him pain and that it was very life threatening, that was enough.
My father had a life threatening surgery to remove 3/4 of his stomach and some of his esophagus that were cancer infected, this was to remove as much cancer as possible. A surgeon I will always be grateful to by the name of Doctor Homan removed all that was needed and stitched my father back together. I came by occasionally. My father was yet again away from home, and now I had to visit him attached to many tubes and all scarred up.
Being 47 my father decided to take a hard form of treatment. This included chemo and radiation at the same time. If you know how bad chemo is you can't imagine what it does to a body having to go through both, (for those of you who don't understand this, chemo makes you extremely sick because it kills good cells along with all the bad cancer ones.) He started this around the time I entered middle school. I reluctantly entered the seventh grade.
My father sick, my mother working, and my brother little I got up by myself got everything done and faced a scary new life by myself. Friends left, and friends came. People changed everywhere for me. It hurt to see my father weighing only 110 painfully getting up to go get sick again, on top of that losing friends, but those friends could not understand it, they only understood how I was not "cool" enough for them anymore. Luckily the friends I was gaining respected me, and understood, that was all I could ever ask of them, and they were great.
Finally after a hard year we saw a glimpse of hope. The doctors put my dad in the category "Disease free" (this was not in remission, but close enough for a stage four cancer patient.) From then on he seemed to get better as time went. Some days would be horrible, but he would have those amazing days where he felt great.
Once it got to the beginning of year 2010 my father went with my brother to his seventh grade orientation. I was to become a freshmen. Later that night my father sat me down and said five words that changed my life, "I'm sorry I wasn't there." He had been talking about to help me get through my first hard year of middle school, but it meant so much more to me. I will never forget that day. My father to this day is one of the first few people who has lived through stage 4 gastric cancer.
On November 30, 2010 we were told that the same cancer has came back and shown up in his lymph nodes. My father just looked at me and said "It doesn't matter, I will push on, defeat all I can, I will live a full life, and even when I am done with my turn in life I will have changed life for another human being who turns out to get the same."
For someone who's life had crashed down in front of them, he is still going, and he will for years to come. It is now that I passed that bridge. I passed to the side of maturity. It is now that I realized how strong my father is. It is now that realized my father killed the evil of cancer, not necessarily physically, but he killed all cancer mentally. Now I beg of you to pass that bridge and learn all you can. Realize why someone lives is for you, realize who you can live for.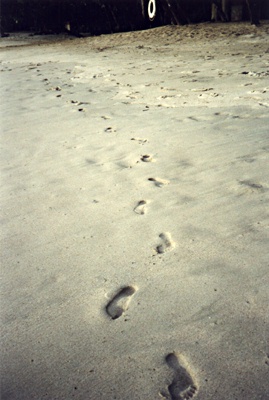 © April W., Rogersville, MO