My Rock
December 18, 2010
When he came in the fifth grade, I didn't see past his dishwater-blond hair and big nose. I had eyes only for an eighth grader that I'd known my whole life.
We had a poetry class together even though he was a sixth grader. Our school is just small like that. Anyway, we didn't talk for weeks, but found a mutual friend whom we loved to push around at recess. It got to the point where I would glare at the clock to make it move faster, and, for once, spend recesses on the black top pushing Wyatt around with Ethan instead of at my desk with my nose in a book. I remember how my stomach would flip around like a gymnast every time I saw him. And even then I wasn't in love with him.
Then one day at recess we were playing Red-Rover with the entire elementary (Red-Rover was all of our favorite game; kids from kindergarten to sixth grade would all join in) and we were on opposite teams. Ethan was always a strong kid: skinny as heck, but strong. He broke through me and a third-grader, I don't remember the kid's name, but I remember I was wearing my favorite sweatshirt and he grabbed my hand and practically dragged me back to his team. That was when I fell in love with him. I looked into those ice-blue eyes and felt that I was home.
The next year, when he moved the few hundred feet over the Jr.-Sr. High School, I'd never felt more alone. My older brother, Cody, had graduated the previous spring, but he came home every Friday to work for the IDL. He'd pick me up after school, buy me a Mountain Dew, and listen to me yap about basketball and classes. I felt so lucky to have him picking me up. I bragged to my friends and stuck my tongue out at them when we blew past them in the red Chevy with the two awesome decals on it.
On my birthday, Cody got me a sweatshirt from his college and my parents got me a mountain bike. I pulled on the sweatshirt and rode the bike through the horse pasture. A few weeks later, Homecoming arrived. As always, Cody promised to pick me up, but he also promised to take me the game, even though he knew I wouldn't watch it. As soon as the bell rang, I stepped in stride with one of my best friends, Aleesha, and we started gossiping. Ethan walked up to me and shoved a folded-up sheet of notebook paper into my hands. Even though it said that it was for my eyes only, Aleesha and I opened it together and read it.
On that wrinkled scrap of paper, we found a heart pierced with an arrow that said "Ethan + Morgan = Love" along with his phone number and an offer to teach me to play guitar. Aleesha and I giggled like twelve-year-old girls do, and she ran to her bus as I jumped in Cody's pickup.
I couldn't hide the grin on my face. When Cody stopped at the fertilizer plant where Dad works, I unfolded the note, only to find that Ethan had also said I should come over to his place sometime. When Cody returned to the pickup, he demanded that I give him the note. At first I tried to refuse, but Cody was eighteen and had been a wide receiver on his football team, a post on his basketball team, and a 1600-meter relay and mile and two-mile runner on his track team. Needless to say, I was intimidated and handed over the note. Cody was protective. He asked for Ethan's first and last name, address, and phone number. I just laughed and hoped that Cody didn't fulfill his promise to beat Ethan to a pulp.
At fair time, I entered my third steer as well as a heifer I'd raised as a bucket calf. I was thrown all over the ring by both the cows, but I didn't care. I tried to smile even though I was crying from being stepped on by an eleven-hundred pound animal and then by a one-thousand pound animal. When I lead the heifer out of the ring (I'd just shown the steer two minutes before I showed the heifer) with tearstains on my cheeks, Cody said something to me I'd been waiting twelve years to hear. Instead of telling me to toughen up and stop being a baby, he put a hand on my shoulder and said, "Way to cowboy up, Morgan." My dad took the heifer from me and lead her to her stall. Cody gave me a hug and my sister, Cori, took me to the camper and even let me borrow my favorite sweatshirt of hers since my foot was sore. It wasn't long before I met up with Ethan; the tracks the tears had left on my face were still red. We walked and talked in the rain till eleven that night. He introduced me to his parents and then I returned to our camper.
That Sunday was bright and beautiful. Ethan and I walked around during the annual Combine Demolition Derby. We'd watch for awhile, and then walk to some random spot in the tiny town, then I'd sneak into my steer's pen and feed him and my heifer. Cody spotted Ethan and I walking together and sent his friend Juan over to us. Juan put his arm around me and said, "Come on, baby," while steering me in the opposite direction. I laughed and slugged him in the stomach.
Only a few weeks later, Cody and I went hunting. I shot my first deer and the next day we went looking for a trophy buck for Cody. The day after, we skinned my deer, and I forgot to take the skin out of the bed of the pickup. My mom took the pickup to work the next day, but got freaked out by the skin. Cody and my other brother, Tyrel, were going hunting but were out of bullets, so Cody went to the town where my mom works to switch vehicles with her and to pick up ammunition.
On the way, Cody got in a crash. He wasn't in his pickup. He was in Ty's Dodge Neon, and he was DOI.
The funeral was huge. The gym was packed, but there were only two faces I saw: Ethan's and Cody's. Ethan's face was sad and surprised. Cody's face was pale and hawkish. And more than anything, Cody's face was cold. His chest was like ice and his hands were as cold and hard and unforgiving as iron. If you've never touched the face of a dead loved one, you don't know what cold is.
Over the next three years, there was one person I counted on all the time. Yeah, we fought sometimes. But we knew we could trust each other. That one person was—and is— my rock, my best friend, and a blue-eyed boy named Ethan.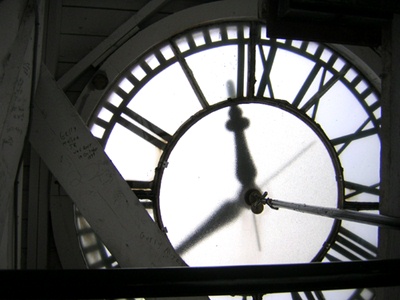 © Tatyana Z., Norwood, MA