What Makes Me Mad
February 16, 2011
The human race. That's what makes me mad. The human race. But I really feel like focusing on one particular aspect of humans, so I digress. One of the many things that really makes me quite irate is the next generation. My generation. The generation I am quite, quite sorry to say that I am a part of. But the one particular thing that I am going to be particular about is (…are?) teenage girls. But not every teenage girl, I like myself and the few teenage girls I choose to surround myself with. I'm talking about those teenage girls who like to talk loudly in class to their friends so everyone can hear them about what they're going to do with their lives. The second part doesn't seem as bad, but it's the actually context of the conversation that really just gets me. They know about three things for certain: they know every detail about their wedding, they know how many kids they will have and what they're names will be, and they know where and what their tattoos will be. Two things they don't have a clue about: college and a future career. This makes absolutely no sense to me.

Now let me just say that very few things make since to me in this world that's grown up around me, but this is really ridiculous. It may just be because I have had a college and career plan since about middle school. It may be because I'm not like they are because of what I've made myself. Whatever the reason, all I want is for the human race about this great big planet of ours to wake up and accept the punch in the face that I am more than willing to administer in order for them to realize how terrible they have made themselves. I can't really describe how infuriated the human race makes me, but I can say this: it's definitely worse than ever. But if I go into this portion too much, this will simply become a rant that may or may not lose your interest, depending on your opinion or level of boredom.

So I will leave you with this: I don't even know if I'll have a wedding, I'm not planning on even having children and I have thought this for years, and the chances are pretty good that I will have zero tattoos. Also, I am planning on attending Pace University in Brooklyn to major in musical theatre and I will be a Broadway actress. I know what I am capable of and what I will do. Do you?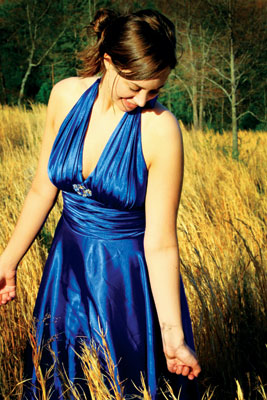 © Michelle B., Blairsville, GA