Intoxicated
June 2, 2011
It was almost pitch black, except for the faint light from two disco balls. The music blared while everyone jumped around in little or big groups. I'm right next to the speakers, so by the end of this, I'm going to be deaf. I'm also in the brightest spot, but I jumped along with my friends anyway. Of course I tripped over my own big clumsy feet for everyone to see. Some whistled and hooted, but most just laughed while chanting, "Jen Jen, Jen Jen, Jen Jen!"
I got up, hiding behind my hair. That was a fail, because it's so short. I peered out through my bangs and saw that everyone had gone back to dancing and singing. Finally, the last slow song came. Sandy walked over. I was sure he would pass by, but he didn't. He asked me to dance. How could I say no? I put my arms over his shoulders, and he put his hands on my waist. It felt like my face was on fire, and I knew it was bright red. We were in the spotlight where everyone could see us.
This time, I didn't care. Some people cheered and chanted our names. Sophia gave me a thumbs up, and Holly said we make a cute couple. I tried to protest, but Sandy pulled me closer. I was intoxicated with love.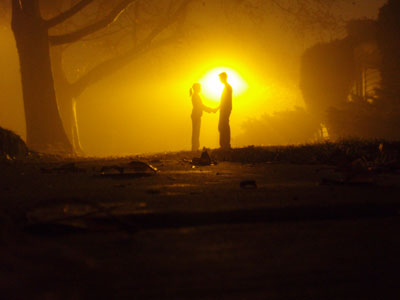 © Tanner H., Kaysville, UT