I waited for you.
June 18, 2011
I cried so hard I couldn't breathe.
I cried so hard every muscle in my stomache tightened from the pain in my chest.
I thought I was going to throw up.
I cried so hard my eyes felt so puffy they were heavy.
I cried until there was dried itchy tears all over my face.
I lye here my body tight in a ball.
I can't cry anymore because I can't stop thinking about that moment on valentines day when you told me you loved me and kissed my face a bunch of times. You were so cute. We fell asleep with our noses barely touching and you were so warm against my body.
I love you so much.
I just want to hold you again, I want you to be mine, I want you to hold me until everythings better.
I want to kiss your nose.
I want to laugh on the phone with you again and call everyone a weirdo.
I want you to say the word "like" 27 times trying to explain something to me.
I want to hug you, so badly.
I want to be able to look at you, talk to you, be with you and not feel like it's wrong.
I want you back so badly.
What would you do if I saw you?
Would you hug me? Ignore me? Would you seem sad? Would you avoid me?
I want to beg for you back.
I want to corner you like you did on your birthday and tell you we can be together; then you'd kiss me and take me back. Just like your party. Say yes. Say yes.
Were you happy with me?
Is there something I can do right now to fix this?
Please, I need you in my life; I feel so weak.....
I have nothing to look forward to anymore..
I think about you everyday.
I love you.
I love you so much.
I've forgotten what your voice sounds like. It's almost been three weeks since our break up.
I hate this.
I just realized I've been calling this a break up the whole time; not a break.
This isn't a break.
I'll wait forever for you.
Just tell me, you'll take me back someday. Please. This summer? I'd love you forever. I won't let go unless I have too. I always hold on to people I like this much, people I love this much.
I love you.
Take me back.
Now.
Please.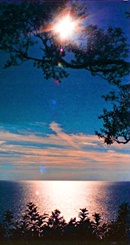 © Crystal B., Gresham, WI