The Attack of Possibilities
July 24, 2011
It had been a week or two since I last attended our weekly training so I decided to train alone. After preparing myself – jogging trousers and a comfortable T-shirt – I opened the door and stepped into the fire exit. As soon as I released the door, it closed.

There was a little problem: once someone's in, there's no way out but through the door that opens in the ground floor. So there was I, trapped in the stairwell. This wasn't actually a part of my training but only a warm-up exercise. This was probably a hardcore challenge since I was going down from sixteenth floor to the ground floor using only the stairs.

But as I started taking careful steps, my supposed-to-be hardcore warm-up challenge became a brave rat challenge. I was alone but I wasn't sure I was all by myself. The water pipes were visible inside the stairwell and the whooshing sound of the water was audible. But I wasn't sure it was really the water or the whispering of the ghosts.

What if ghosts are real?

I moved on step-by-step and stopped to see a roll of tangled wires blocking my way. I couldn't get my way on the side. There was no side. I couldn't go back upstairs. The only way out was the ground floor. Sighing, I found myself tricked – where did this tangled wire even come from?

Despite my fears, I found my feet moving forward. Stepping on the wire with my left, I moved forward with my right. I took another step with my left and found myself relieved. But the hairs on my arms stood when my right foot was tangled with the wires.

What if the monsters come?

Kicking and shaking my leg, I started to feel panicked. The thought of screaming came to me but I wonder if anyone would hear. And if there was one more thing you, readers, need to know, it is the fact that I don't scream. It wasn't because of pride. I just don't know how.

What if the cockroaches or any other kind of insects fly into my mouth when it opened?

The thought of it made me sick. Biting my lip, I kicked and shook harder and finally, my foot was free. Relief passed by too fast before I could catch it. Feeling the urge to get over with this, I continued going down. My steps were hard and loud. But my heart beat was harder and louder.

What if the monsters hear and become interested in it?

Taking more steps and almost jumping, I felt my legs starting to wobble. I wouldn't believe myself if I say it was because of fatigue. I'd rather believe it was because of fear. Looking down, I wonder if this flight of stairs would ever end before I could die because of fear.

Finally, I reached the ground floor. I pushed the door open and the breathed in the air from the surrounding I knew and not from the spider-webby fire exit stairwell.

As I walked to the elevator, I could feel eyes on me. Even the security guard and the administrators of the building were questioning me with their looks. But I was too tired to answer. And my mind was too busy getting me rid of the imaginings it made.

After all, a fire exit stairwell is not a good place for physical exercise no matter what sport you do. That's why gyms are made!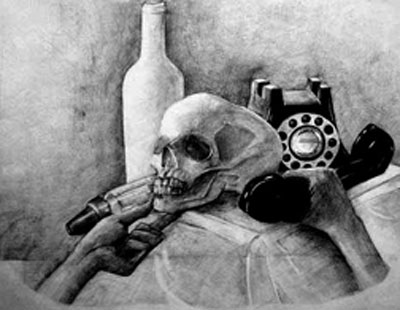 © Xiao H., Naperville, IL