Not Afraid
August 15, 2011
"Boys have cooties!" I jeered. Of all the cootie callers in the second grade, I was the most adament.
In seventh grade, it was "I don't have time for boys."
But now?
Well...
I glance at my computer screen. Nope. He's still not online.
I sigh. He told me he's going to his grandmother's house for this week; and he won't be online. But a little part of me clings to the hope that he'll find a way.
We haven't talked since Friday- a short 236 line chat.
But then again... I blush, remembering how we'd talk for hours on end, every night, until the early hours.
How we'd started out friends, then tentative crushes, than- dating.
It's an odd thought for me.
The girl with long dark hair, glasses, and is known to be academically outgoing.
He was the quiet boy. I'd never gone for that type before; I was always into the artistic jocks.
Liam has red hair like Texas flames, and blue eyes like the ocean in the ardor of spring.
He's got pale, slender fingers, and sometimes I just can't help but watch them.
I remember the time I rested my head on his shoulder.
It was the 8th grade celebration; the day before the last of school.
We took a field trip to a big, open field, and ran, swam, played soccer-
It was wonderful.
That was the day I figured things out. How to keep my childhood, and be who I was, but still fall in love a grow up.
That day, I rolled down hills with the girls who danced ballet: did cartwheels with other gymnasts.
I wrestled beach balls away from the tougher guys, and beat them in relays.
He tickled me, and kept looking over to make sure I wasn't drowning.
My crushes before Liam were always covert. I'd keep them a secret.
This was different.
I told Liam I liked him in Feburary. He acted as though nothing had happened, pressing his side more firmly against my own.
He told me he loved me in June. I nearly had a heart attack, but promptly responded in kind.
And now...
I sigh.
It's the freshman picnic, on Saturday. We'll be forced to manuver under the eyes of our parents. (Both pairs of whom would freak out if they knew).
Something tells me they already have a faint idea- just not the whole story.
I used to think that I could never stay the same, if I had a boyfriend.
But I am. I am the girl who scales trees, who does flips. I am the girl who writes stories, and plays the violin.
I swing at the park, I joke about ridiculous things.
So does Liam.
I am not growing up too fast. In fact, I'm growing up just fine. I am no longer afraid.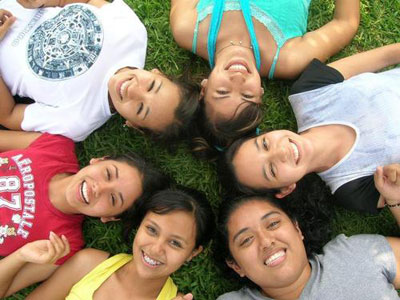 © Ana F., Guadalupe, Mexico