Pixie
August 29, 2011
The pain is still fresh, even though it's been two years and almost eight months. I can remember the hospital, the polished corridors that reminded me too much of a hotel. The walk through the automatic sliding doors, through an empty waiting room, down the carpeted hall. Turn left, walk a ways, turn right, and you're at the elevator standing on shiny, hard tile. Wait for the elevator, go up to levels, take a right, left, you can't miss the ward.

My grandad was a WWII Air Force veteran, along with Korea, Cold, and Vietnam. He was there for all of those, and he was the strongest man I knew. Charles Valentine is still in the heart of many people at the local airplane hangar where he went every morning to restore the China Doll, a large air carrier plane.

But I wasn't always close to him. It was only after my nana's death n September 2005 that I realized how alone my grandad was. Loneliness scares me. Loneliness is my worst nightmare. I couldn't let somebody go through that alone, so I realized I had to spend as much time with him. I wrote him letters, called him on the phone, and I was going to go up by myself by Amtrak train to see him. Before he was checked into the hospital.

It was a living nightmare. First it was the hospital, then assisted living, then home. This chain of events was like watching a horror film for me. I couldn't intervene, I couldn't help. The nurses knew what they were doing, but they weren't doing it right. My grandfather was dying, and, to me, it was unclear why.

I can still remember calling him on my cellphone in October of 2008. I caught him right as he was going to the doctor's office. He was normal, he sounded great. But there was something not right. I remember saying 'I love you', then hitting the END button. The shiny red of my old phone stares at me in this memory.

I should have said 'I love you' more. I should have spent more time watching the news or reading the paper with him, or at the hangar, or feeding the birds outside. He had blue a blue jay called Mr. Bill that stopped by every day to get the peanuts my grandad set out on the bench arm rest without fail every morning. Nobody does it now. I think it was being without my British grandmother that got to him. He loved her so much, and it killed me to see him without her.

Those visits to the hospital are things I have nightmares about. That fake, plastic smell, the tater tots in the cafeteria, Charlie staring blankly at something in the distance. It pained me so much to see him like that. I was going to go to England with him! I was praying every second for him to pull through, but when he came home from the nursing home, I knew I didn't stand a chance. Which just made me think, 'me and what God?' If he was there, why was he hurting me like this? Why was he taking away the person I loved?

On January 6, 2009, I woke up crying. I woke up troubled, upset, and went to school late. I was already going to be picked up late for a dentist appointment, but when I walked out into the courtyard and saw my mom, I knew something was wrong.

My dad had actually driven up to Camarillo, where my grandparents used to live, on the spur of the moment to put a ramp on the front entryway so they could take my grandad outside to look at the sun. But when he had gotten there, everyone was around. They were singing happy birthday to him, because he had wanted to live to his next birthday.

He died two days before his 84th birthday.

I'll never forget the last time I saw him. He had the same eyes, but they weren't hidden behind their usual frame. I had no idea how I was going to say goodbye. I just had the feeling that this would be the last time I would see him. He couldn't really move, he didn't have the strength, but when I came to him, he lifted his arms up to hug me and called me his Pixie.

I never saw him again, but I never stop missing him.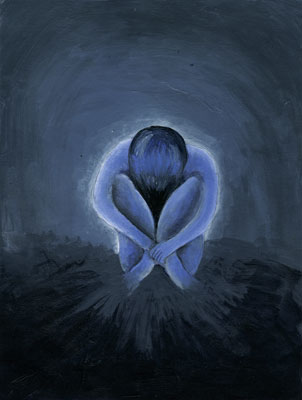 © Becky F., Sacramento, CA