Imagine
November 29, 2011
On September 28, 1998, I was brought into this world at 12:01 PM, in the Shore Memorial Hospital. However, my arrival was far from flawless. When I was removed from the womb, I was green due to Meconium Aspiration; a disease that means that a baby is lacking sunlight in the womb. So when I "popped" out, the doctor rushed me to an Ultraviolet Ray Machine.

"All I could hear, think, and speak about was the Beep Beep Beep of the machine," My dad said, "However; all my worry was washed away when the doctor came in holding my newborn baby. The second I looked at you, I knew who you were…Dennis."

When I was young, my Dad, brother, sister, and I lived in a small apartment on Princeton Ave., in Ventnor, NJ. I was so young when we lived there, the only thing I remember is playing in our sun porch with a Blues Clues house and a Wiggles Action Figure. However, when I was three, we all moved…wait for it…a whole THREE houses away from our humble abode. My Dad (Dennis Senior), brother (Dainen), sister (Kylie), Lab (Cedar), and I all had a bumpy start in our new and much larger house. I remember walking into my sister's room and taking her pillow, and she stormed at me like a herd of hippos and javelin threw me into the radiator. In a nutshell, it was pretty hectic.

Ahhh, school. Who knew that this 6 letter word would be so immense in the lives of everyone? My school experience was and still is amusing, exciting, and quite outlandish. I started school at the young age of 3, and to this day I am the youngest in my class. From the grades K-6, I attended Holy Family Regional School. In pre-k, I remember never being able to ride a bike, tie my shoes, or even roll my r's correctly! Not much changed in Kindergarten, except that I could finally successfully accomplish a double knot. A lot of bizarre happenings were in Kindergarten, but my greatest memory was when I starred in my class's production of Caps for Sale. Everyone else were cast as monkeys, while I was awarded the prestigious role of Caps Salesman. As I stared at the parent audience on opening night, I thought that nothing would ever feel quite the same as this…boy was I wrong. The next four years were gone in a blink of an eye, and, before I knew it, I was a 6th grader.

One of the greatest experiences of my life was in 6th grade when I attended the National Young Leader's State Conference in Princeton, NJ. On November 14-18, I and other students from across from across the state came together for this momentous occasion. When I came home from this conference, one extremely big change was waiting for me…

"Dennis," My dad explained, "We are transferring to VECC."
----------------------------------------------------------


On my first day, I stealthily scurried through the school. Before I got to my first class, I ran into a girl who looked at me with a girl-you-best-be-watchin-yo-back look. I never imagined that that girl would turn into a good friend of mine in the future. I quickly scurried to my first class and walked right into what seemed like a cave of bloodthirsty bats' eyes glaring at me. Ironically, the duo who gave me the coldest shoulder were Emma and Olivia Bergman, partly because I was bothering them while humming, partly because I mixed up their names. Who would've known that by 7th grade they would all be very close friends of mine?

7th grade was a year full of memories, memories, and memories. I must say that the greatest experience was Tech Class with Olivia. Through the span of the year, we created an AMAZING video, a giant rube Goldberg, and a Miley Cy-Wheels out of wood; a replica of Miley Cyrus with an otter tail, a beer belly, an infected belly button, and a giant set of wheels straight through her. At the end of the year, Olivia and I tied our creation up to a tree and played our version of Piñata. As I prepared to swing, I had a flashback of all the fun building this block of wood from scratch. As the wind blew and the leaves rustled, I knew that this was true pleasure. When my stick collided with the misfit toy and the sound of cracked wood echoed through our ears, I knew that nothing would give me the same sense of accomplishment.
--------------------------------------


As I stood at the podium and glanced down at all the anticipating friends and family of my classmates, I remembered how great a year it was; I was president of the Student Council, Top Student of my grade, etc. Not to mention that I earned a full ride to St. Augustine for outstanding scholastic achievement. I then looked out to the audience, smiled, and said

"I now give you the graduating class of 2012!" At that moment, I had no idea that at the age of 20, I would've graduated from Princeton University with a 4.4 GPA. By 30, I would've traveled the world and helped many people. By 40, Time Magazine would've named me Most Influential Person of the Year, and then, in ten years, of the Decade. After reading my future, you may say that I'm a dreamer, but I'm not the only one.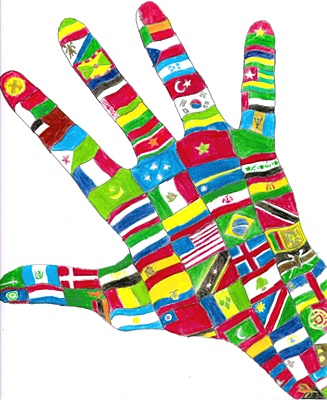 © Adeline N., Ridgefield, C