Pearls Below Me
February 13, 2012
"Neither cast ye pearls before swine"-
The Bible

I love pearls. You ever know the dames in those old black and white noir films sighing contently whenever they're happy in love. I feel like of those dames whenever I see a string of gorgeous pearls.
Pearls are naturally created inside the bodies of mollusks, a type of shellfish*. When a grain of sand finds itself in the shell of a mollusk and is viewed as a potential threat or parasite, the organism creates a pearl sac over the irritation. Over the years the mollusk continues to create the same layers, until a pearl is finally produced.*
*Don't worry or fantasize (whatever kind of person you may be) about finding on a pearl when eating in one of those fancy sea-food restaurants in Sheepshead bay area. It is an incredulous probability that one would appear, though there have been some cases.
*Fun little trivia fact: pearls are actually considered mineraloids or organic minerals, which are substances that do not have a definite crystallinity and are products of animals or plants. But I'm not writing to give you a science lesson, so let's move on, shall we?
The raison d'être why I loved pearls came from several foundations. Maybe it was the old soul in me that loved the elegance of stars like Audrey Hepburn gracing the silver screen with this beautiful mineral, i.e. Sabrina and Breakfast at Tiffany's. But I know one definite source from where my adoration of pearls streams from, my grandmother. One simple day in the many days when my visited my Baba Rosa who lives on the third floor in our Brooklyn home I found something. I was rummaging around in her dark wood drawers when I saw it: two strands of imitation pearls. Though they are just replicas this doesn't make their value any less real to me. One strand resembles baroque pearls, a shape which is slightly oval and very uneven; I always connect this necklace with my Baba Rosa. The other necklace is a long strand of even round pearls, pearls which are less lustrous than the other real, expansive pearls, but still very beautiful; I always connect this one with myself. After I had discovered these treasures I had put the necklace with the round pearls on myself and the other on my grandmother. She had felt silly in them, even when I told her that they looked very pretty on her (I told her this in Russian.) She didn't wear the pearls at all from then on, unless I forced her to, but I wear mine. I would wear the pearls for days on end, just enjoying the sense of it on my neck and collarbone. My mom hated this; she would always groan and ask why I was wearing it all the time. Sometimes I just smile and say nothing, and sometimes I say that I wear these pearls just because, just because I like them, actually just because I love them. When we went Majorca, a lovely island in the Mediterranean, as part of our European holiday we had gone to a pearl factory where my parents purchased a set: white baroque pearls in the form of a necklace, bracelet, and earrings. I believe that my mother thought that if she purchased these authentic pearls I would toss out the ones she loathed so much. Nowadays when I have a special occasion I need to go to and cannot get out of I wear these stunning pearls, but I still kept the originals. As I am writing this I am wearing that long string under my sweatshirts in order to avoid causing another migraine for my mother. But I still love those pearls.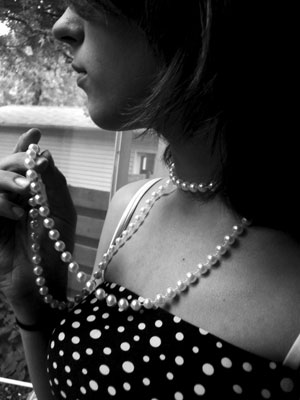 © Elaina V., Canton, OH