What a Lovely Gal that New Year's Eve
February 13, 2012
What is it about New Year's Eve that conquers up the images of champagne and the decline of the Times Square Ball. Conjure- to produce means of magic or enchantment. It's not quiet that strange to me that this specific occasion embodies those elements. Did you know that in Morocco mint tea is made differently in every serving? Every celebration is distinctive in its own style in its own area of the world

New Year's Resolutions
"Resolution #1: Uggg - will obviously lose 20 lbs. #2: Always put last night's panties in the laundry basket. Equally important: will find nice sensible boyfriend and stop forming romantic attachments to any of the following: alcoholics, workaholics, sexaholics, commitment-phobics, peeping toms, megalomaniacs, emotional f***wits, or perverts. Will especially stop fantasizing about a particular person who embodies all these things."-
Bridget Jones from "Bridget Jones' Diary"

You know how everything after the stroke of midnight everything makes a mental list of all the things they want to do, or wish to do, or all the ways they can better themselves. At least half of those people believe their resolutions can be accomplished, and about 12 percent of those people actually achieve their goals. Depressing, isn't it. But this year I will set accomplishable goals with all the determination and focus of a young female in my position, in other words, me.
1)
I will try to get along better with my sister
2)
Continue to learn Russian and Spanish
3)
Improve lingual skills in Russian and Spanish
4)
Advance in my Taekwondo classes (A.K.A Learn how to effectively kick someone's ass, though only in self-defense.)
5)
Study well for the Regents exams and ace them all.
6)
Try to not go crazy while studying for the Regents (or other tests for that matter)
7)
Complete this year's quota for community service hours
8)
Get around my birth city, the Greatest Metropolitan center of the world*, and visit places and do things I never done before. (Isn't that want everyone aspires to do?)
9)
Become a better person.
*No complaints. You know that this is true.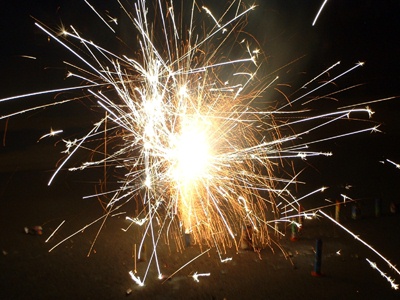 © Kevan B., Beaverton, OR