What high school taught me about that little thing called "Myself"
March 7, 2012
"It's hard…" Her southern accent hits that weird, girly pitch.
'I-I mean…" I have never known how to talk to this woman. She's intimidating to say the least, and I'm not the only one who stays on her good side on purpose. "I can at least try, right?"
"Yeah, but look at it, honey-" She opens the book and flips the pages like she's using them to fly west. Calculus equations appear and disappear before me. What's the big deal?
"I want you to wait and take it in college. You'll lower your GPA."
My gut mixes with an odd annoyed, yet offended, yet determined feeling.
This is my guidance counselor. Within the shadows of her supposedly protective wings, I don't get a ton of support. Mostly, she hints that I'm not capable. Up until this moment, I have put off confrontational conversations with her, but I can't wait any longer. I have to dig myself in.
Part of me wonders if I'm digging my own grave.
I sigh, "I'd just really like to take it…" I tilt my head and give her what I hope is the look of death.
She's not impressed. "Go talk to Mrs. Joy."
My Converse hit the hallway. Mrs. Joy isn't much more interested in my education than my guidance counselor is. At my high school, it's all about that diploma. At my high school, it's about a good GPA. At my high school, the guidance counselors get jobs becausee their family owns my private school.
At my high school, I wasn't challenged a day in my life.
After graduating from the extension program of my private school, I enrolled in an awesome college. At my college, professors care about real learning. The kind of learning where I pursue what really interest me, and no one calls it "a waste of time." At my college, my guidance counselor doesn't push me into anything I don't want to do, and she definitely doesn't talk down to me when I ask for a challenge. She gives me information and lets me make my own decision.
It's crazy.
She treats me like I'm an adult or something.
And the funny thing is… The day I met with my college counselor, I was only six months older than the day I had the Calculus conversation with my high school counselor. Was I anymore of an adult? No. I hadn't even walked across the graduation stage, yet. The difference was in each counselor's approach to education. One approach was learning and self-growth above all, and the other really wasn't an approach to begin with.
"Mrs. Joy?" I try to sound sweet for her sake. I know I can't take my frustration with my guidance counselor out on Mrs. Joy. The truth is, I'm starting to panic. Like big time. Like someone's actually going to deprive me of something good.
"Come in, Sweetheart," She calls. She sits at her desk flipping through a book. "What'ya got?"
I fumble with my feet and tilt my head, "Will you approve me to take Calculus?"
"Our Calculus really isn't that good of a course. No one passes it." She states. Her eyes are honest, and her posture confident.
"Well…" I'm begging by now. Somebody, give me a shot!
"We have a good Trigonometry course, though."
She has my undivided attention. "I'm not against that… I just… want a challenge."
"What's your ACT score?"
"Twenty-two…" I bite my lip.
"That'll work." She turns her attention back to her desk. "Remind me Monday, and I'll pick up the materials when I'm on main campus."
"Thank you so much." I have a feeling the look in my eyes communicates exactly how I feel.
I guess, in light of Mrs. Joy, I can't say everyone tried to keep me from challenging myself. She didn't exactly encourage me, but she didn't stand in my way either, unlike some people. What I would have liked from my guidance counselor in high school is exactly what my college counselor gives me now- information and a shot at what I want. Although I think my counselor thought she was doing what was best for me, she never showed me I had other options. She tried to push me into a flimsy "ACT Math Course," instead of telling me from which advanced Math courses I could choose.
By the end of high school, the same counselor that didn't believe in me at the beginning of senior year was the same counselor insisting I be recognized at graduation for my hard work, persistence, and good grades.
I stand in shock when I find my name in the honor's section of the graduation stage. Suddenly, I'm some genius to these people. When the cue comes, I switch my tassel to the opposite side. I'm educated now. I'm on my own.
In reality, the misconceptions about me matter the least. What matters is that I challenge myself and becausee of that, my senior year of high school was one of the best years of my life.
High school taught me that I have to fight for what I believe in. I won't always be offered good things. Sometimes, I'll have to make sure I get them, anyway. Someday, I might have to rip a Trig book out of a professor's vice grip. I might have to do something just becausee I know it's what's best, despite someone else's good intentions.
At this point, I'm responsible for getting my education or being cheated out of it.
And I don't plan to let a professor's vice grip out match my ninja grabbing skills.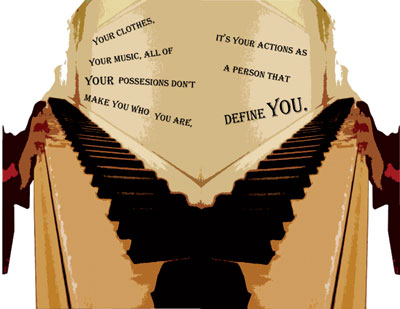 © Brad F., Stewartville, MN