Time Passes
May 6, 2012
Time passes- in slow moments, fast days, blurry weekends, and the infinite moments in which I curl into a ball and feel the emptiness that you left within me. I feel the little pieces of my heart within me- sharp and painful to pick up, because each one holds a memory that I vowed never to forget. And the only way I can put that piece back where it belongs is to forget about it and let it go. I'm trying to cope with losing promises that were truly lies that I believed in. I am trying to let you go. I forget a little bit day by day when I am awake- but in my dreams you and are are still together. I relive our six month anniversary... one year... and two.... holidays and weekends.
Sometimes I wonder if you ever read my pathetic posts (yes I know I am pathetic, get over it world, I am fifteen and heartbroken) and miss me. I wonder if you miss kissing me or holding me. Or maybe the way I would brush my fingers through your hair on the rare days when you went without hair gel.
I miss everything.
I miss your crooked smile and the way you tried to fix it when I pointed it out. I miss seeing your eyes when I whined enough to get you to take off your sunglasses for a few moments. I miss eating Panda Express and sitting on the couch watching "Lost." (Now I can never know what happens after disk 3, Season 2.)
Time is passes and maybe one day I will be able to look back and pull a classic, "You are stupid for letting me go-" even when you're happy without me; or maybe "It never meant anything-" even when we both know how much it meant to us both. But that day is years away because you wrote your name across my heart and I won't ever be able to forget you, because you were my first true love.
My only wish is that in ten years you look back and remember that I was the first to show you what love was- and miss me, even if it's only a little.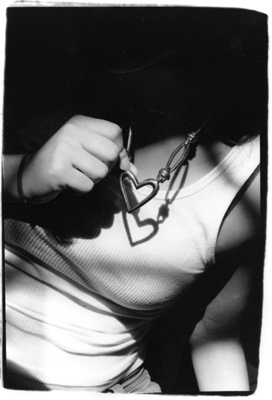 © Julia R., Bethesda, MD