Losing Life To Facebook
September 18, 2012
Stories are an extraordinary domain. I am not extraordinary.
The biggest task of all is admitting that you are not perfect and you too have problems to deal with.
I have read essays, articles, stories about people dealing with addiction to drugs, alcohol and cigarettes. My problem is fairly simple but is life threatening. It is none other than the World-Wide-Web. You probably don't notice but it gradually destroys your life little by little. It's symptoms are nothing great, just that you are losing your precious time. I feel the need to share my thoughts constantly and I feel the laptop screen's brightness soothes my nerves and probably makes me more creative. It makes me feel connected and a part of the world. I feel that my thoughts are heard and emotions cared for. It gives you a kick to know that you know everyone and anyone. It portrays the perfect image of equality, where everyone is given the same amount of attention and space. You feel as important as XYZ is. Biase-ness is the great Indian tragedy, and Internet is the American dream. I probably just want to save our memories for eternity, in a place which will never evolve or change. I didn't realise as I went away from books, from people, from things which mattered and devoted my time to television and internet. My grades fell and my mind succumbed to never thinking out of the box and my creativity lost itself in the muddle of facebook posts. Right now, I am at the stage of rediscovering my lost self, and my first love-books, making sure that my time is well spent. Life is too short to have regrets.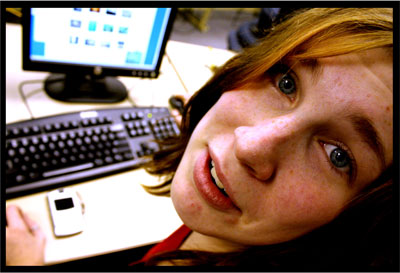 © Sam W., Bellevue, WA