Gone, But Never Forgotten
October 20, 2012
Michael was a great friend. He was energetic, enthusiastic, friendly, and funny; he always brought smiles to people's faces. He was truly a wonderful person. He had many people that loved him and cared about him.
Now at his funeral, all these things are running through my mind. People around me to themselves continue to ask, "Why, why him?" I wish I knew. He didn't deserve to die. He was too young, only eighteen.
Many came. People from work, including our past bosses Rebecca and Anna attended. His family came, as well as his school and family friends. We all gathered this Saturday morning for one person: Michael.
The chaplain spoke about Michael and his love for life. "Michael was more than just a person. He was loving, kind, and had a sense of humor. He put a lot into life. He did more than just live it, he made an impact.
You have left footprints on our hearts, Michael. From all the people I see here today, I know you have touched many people's hearts." After she finished her speech, she paused and said, "The second part of the service will be run by the family, in their Buddhist tradition." Many of the family members got up from their pews, and walked to the back of the chapel.
I thought about the beautiful words about my friend and coworker that the chaplain had just finished saying. I almost began to cry. It's hard to believe that a life can be taken in a blink of an eye.
Minutes later, they returned with hymn books in their hands. They gathered in the front corner of the room, did the Sign of the Cross, and began to sing in their native tongue. The combination of chanting, praying, and singing filled the air in the chapel. Despite the fact I can't understand Vietnamese; I found the music to be very beautiful. The pitches were right in tune and never was there a wrong note.
As the service went on Michael's family welcomed everyone to come to the front to give Michael money. In Buddhist tradition, this meant coming to the front of the room, next to Michael's altar; decorated in flowers, food offerings, incense and a graduation picture of Michael; to burn paper money so that Michael may have money to use in the afterlife.
Despite different religious beliefs, several of Michael's friends, including myself, and his family came up and burned money for him. (Be aware, we didn't actually burn real, American dollars.)
Then, it was time. Everyone was given flowers from the numerous bouquets in the room to put in Michael's casket. Many of us began to cry, others just looked down in sorrow. Loan, Michael's beloved mother, continued to give people flowers, even if they had already gotten one. Single file, everyone walked up to the casket to say their last words and place their flowers in the casket. Tony, Michael's father, took a few of the items; including a stuffed teddy bear and pictures, into his son's casket.
As I solemnly approached Michael, I thought about him and the wonderful memories I have with him at work. "I'm going to miss you," I told him as I placed the pretty, red carnation on his chest. I walked away, wanting to stop and sob over the death of my dear friend. But I keep walking.
Members of Michael's family surrounded him. Everyone else trailed behind them, following the casket the chamber. As Michael was being put in, several began crying Michael's name. Many of his friends, family, teachers, and coworkers began to shed tears. As I heard the crackling and burning from the cremator burning his body, my heart sunk. I couldn't believe it. He was really gone.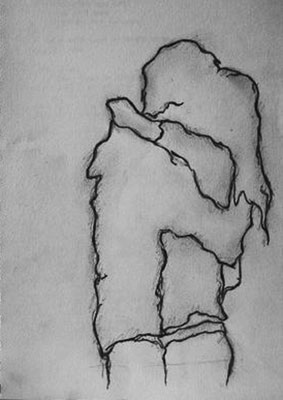 © Nicole B., Newcastle, WA