The Japanese Exchange Inbound Homestay
November 11, 2012
A nervous vibe buzzed throughout the library. Twenty-four foreign students chattered in whispers. To us, only snippets of their hushed voices were coherent; the odd word from our extra classes cropping up into their conversations. One bespectacled boy held onto his teddy. A couple of blushing girls glanced at us, and then turned away to stifle their giggles. Others just stared.
Peering down the line of us, it was clear to see what everyone was doing. Some whispered to their neighbour while discretely pointing at a particular foreign student, while others appeared to still be looking. I had found my host buddy easily – he was a small, dark haired boy sitting in the middle. He appeared to have seen me too, because every time I looked at him he looked away.
Finally the library fell quiet. Everyone turned to face the end of the aisle, where Mrs Dorrington and a Japanese woman stood. Mrs Dorrington spoke first, welcoming the Japanese exchange students to Belmont and wishing them a pleasant stay. She spoke in English, and then the woman repeated in Japanese. The Belmont Intermediate exchange students and I smiled when we heard familiar words like "Y?koso" and "Suk?ru" in the woman's translation.
Mrs Dorrington then started giving out instructions. She told us to stand when your name is called, walked to the middle of the aisle, between the two rows of seats, shake hands, and walk back. The Japanese interpretation caused the Japanese students to nod obediently. Then, without warning, Mrs Dorrington began to read out the names.
One by one the two students, once separated by half a world, would go up and shake hands. I couldn't help but smile at the awkwardness of it all – from the stiff movements to the clumsy attempts at saying Kon'nichiwa.
Just when I thought that they had forgotten to say my name, it was said.
"Flynn and Yoshitaka." My skin prickled. Yoshi and I stood, walked to the centre of the aisle, and shook hands. Neither of us looked directly at each other.
"Kon'nichiwa," I muttered, and felt the smiles of the other students on my back. I smiled myself, and sighed with relief as I sank back down into my chair. Maybe this exchange would work out after all.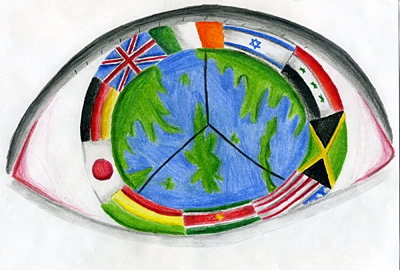 © Kelly L., Brooklyn , NY