Thoughts on the Apocalypse
December 24, 2012
Why is the end of the world so fascinating to us? Is it just that our minds can't comprehend the thought of our society falling apart? Personally, I have no clue. All I know is that 12/21/12 came, I was ready. It was just in case, of course. I didn't skip school and hide in my basement like most of my classmates. I went to school all the same, looked death straight in the eye, and smiled. Not only the Mayan Apocalypse was that day, a more personal doom loomed over my school. As a freak-out response over the shooting in Newton, rumors came up that someone was planning to do something similar at my school.

It really didn't help that we had a real lockdown a few days before. The police presence didn't help either. They were only there because the rumors freaked out some parents, and to assure everyone that we were safe. I think that not acknowledging the rumors would have helped more. If cops were there, it seemed to me that there was a real threat, not just the normal lies kids tell to scare one another. Suddenly the discomfort of an airport washed over my friends and I. We all got the overwhelming urge to use words we knew we shouldn't. "Shooter", "gun", "bomb". They all came to mind for all of us, and it was all we could talk about.

At every turn, it felt like I just couldn't win. There was more than one plan out to get me, it seemed. Was this really the end for me? Well, which was it going to be, a bullet or an asteroid? Of course I still highly doubted that I was going to die, but my comfort level was far too low. My chances of dying had gone from a measly one in a million to downright possible. So I did what any sane person would do, prepare. Not physically, but mentally. I thought about my family and my friends, and it eased my mind knowing that if worse came to worst, I would die with them. I forgave my friend for a little squabble, and didn't forgive those who I felt didn't deserve it. After all, this was all just in case.

The rest of the day passed, and death seemed far less likely, a new feeling raised its head. It was almost disappointment. Not quite, but almost. In my own odd way, I was ready for anything the world could throw at me. Still, the world chose not to do anything. The day left, and night took its place, completely uneventful. Even the end of my 2012 Countdown app was a complete disappointment. I mean, I waited a year to see what would happen at the end of that thing. There could have been at least some digital confetti or something.

The last feeling finally overcame me as I fell asleep; relief. I thought of all the things I wouldn't miss out on. There was still time to find a girlfriend, go to college, have kids, and become published. (Not necessarily in that order.) I still had time to live, and then I realized why my world didn't end.

I still needed to live.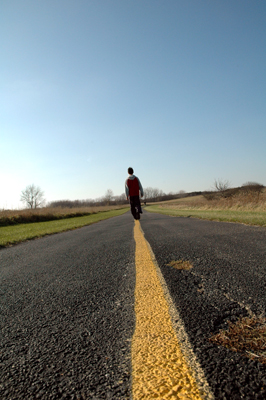 © Seita O., Palatine, IL