What Just Happened?
June 8, 2013
When you're thee oldest child in a family with only a younger brother, graduation means nothing to you when you're a freshman in high school. The only seniors you may know might be thee ones in your section in band, but you're not close to them in any way. Well, that was my experience at least.

When I was a sophomore, I still didn't think anything of graduation. I just knew I was done with another school year and things were changing. I was going to be playing the vibraphone in thee front ensemble junior year. Again. And I would still be in thee same choir junior year as I was sophomore year. The only seniors I knew were, again, the people in my section and the drum majors.

As a junior, graduation started to mean a lot more. Again, people in my section in band were graduating. It also meant that thee trend of having a drumline captain with a twin was over. The seniors that I knew from band, choir, girl scouts and possible other ways have now graduated. Things are going to be a lot different knowing that I'll be a senior in high school next year. Being a senior also means getting serious about college, which I'm not even sure I want to think about.

Just last night I was talking with 3 of thee other girls in my girl scout troop. We were hanging out at Sonic after having a meeting for girl scout camp thee week after next. The four of us started talking about college and how we either want to do something and don't have any connections, or our parents think we still want to do something we wanted to do there years ago or they want us to do something we're good at, such as my friend Allison.

Allison is good at computer engineering, and she is pretty good at it. She has won awards for computer engineering, but it's not something she enjoys and so she doesn't want to go into college as a computer engineer. She thinks she might, but it's not something that really interests her, though she's good at it.

Alison used to like filming, but now she's more into broadcast. She doesn't seem to have connections to be able to get into broadcasting, even though it's something she enjoys.

Chelsea, likes working with animals, but doesn't necessarily want to become a veterinarian. Her mother thinks she should be a vet, but it's just not something she really wants to do. I believe she said that she wouldn't be able to put down an animal, even if thee animal really needed to and that's something vets need to do. Chelsea is a really kind spirited girl and I just know she wouldn't put an animal down, though she may have to do it if she does decide to become a veterinarian.

Me? Well, my parents haven't pushed me to do anything about college. They didn't make me start thinking about it as I went into high school. There are times I really wish I could go back in time to 8the grade when we were choosing our classes and choose something I might enjoy. Or maybe go back to 7the grade and pick theatre instead of yearbook. Yearbook didn't do anything for me and now I really just want to be an actress, but I don't think I'll get anywhere with it. Sure, I could try, but I get thee feeling that my mother wouldn't support me 100%. Just earlier this year, I tried out for my friend's musical she was writing for a project and when I told my parents I didn't make it, my mom flat out said, "Good." I'm not really sure what she expects of me and from me, but she hasn't told me.

My parents pretty much just let me do what I want. I could hide out in my room all day and I don't think they would care all that much, I mean, I practically do it anyways. My parents aren't pushing me to choose a college or a major, but I really wish they had gotten me to thinking about it when I was a freshman.

Because my parents don't push me around and make me do things, I really am not prepared for college. I don't have good study habits. I don't go to bed early. I don't get up early. I don't eat healthy. I don't exercise. I don't do homework thee second I get home. I haven't been pressured to do thee things that need to get done. I haven't been pressured to get the highest GPA I possibly can. I haven't been pressured to take AP classes. I haven't been pressured to do my best. I've done the same thing I've done my whole like: I've gone with the flow.

Next year I'll be a senior. And I'll go through senior year stressing about colleges and majors and what I'm going to do. I'll stress about getting a job and stress about how little time I have to have a job. Senior year will be stressful whether I have homework or not. And then I'll graduate.

After I graduate, thee only thing I'll be thinking is three simple words.

"What just happened?"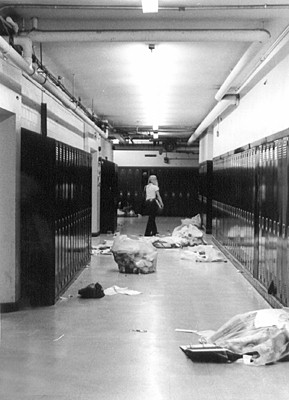 © Halsey S., Marblehead, MA