Mixed Signals
October 5, 2013
Every girl should be comfortable with their body.
Every woman should be comfortable with their body.

I am comfortable with my body.
I am uncomfortable with my body.
I am so confused.

Society tells women and girls that they should be comfortable with their bodies whether they're tiny or bigger than some, but TV and movies and books and other such things tell these same women and girls that they should strive to be skinny because no one wants someone who is bigger than what is ideal. Women and girls want to be like the celebrities and be skinny and gorgeous and loved by everyone.

This isn't always possible.

There are some women and girls that try diets and exercising, hoping to loose weight to be skinnier than they are, and sometimes it doesn't work. Some women and girls suffer from bulimia and anorexia because society says you should be skinny. They may think it'll work faster than a proper diet and exercise will, but they won't know unless they try.

What if some women and girls are comfortable being bigger than some?

It seems that every time you see a bigger girl or woman on TV or in a movie, it seems that she is there just to be made fun of, or someone points out how big she is and she either does not care or she just feels terribly guilty and yearns to be skinnier. Sometimes the character stops eating altogether, and this happens to the girls and women around us today.

Why does society do this to us?

This does not apply only to women and girls; boys and men go through things like this as well, though it isn't pointed out by society. This issue is focused mainly on the girls and women, but why should they include focusing on the boys and men? Is it because society thinks that women and girls are more emotional than the guys are? Some boys and men may be just as emotional as the girls and women and may suffer through the same things.

We can't change society, but can we change our ways of thinking?

I'm so confused by what society tells us. I feel that I should be comfortable being the size I am, but I look all around me and see these skinny teenage girls and then I hear about one of my friends being bullied by a girl who is telling he she needs to go on a diet and exercise more.

Within the past few months my family, including some of my grandparents, has been hinting that I'm bigger than the ideal and should try eating healthier and start exercising more.
I'm sorry if I wasn't raised eating healthy food all the time.
I'm sorry I haven't been raised in a family where exercise was very important.
I'm sorry my parents have raised me to be lazy.
I can't control how I was raised because growing up I was naïve and I was just a little girl.

Girls.
Women.
Boys.
Men.
You should all strive to be comfortable with your body.
It shouldn't matter what anyone else says about you, you should just be you and like yourself for who you are and what you look like.
Don't try to be something you're not.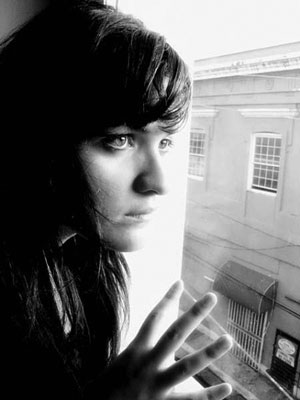 © Eveliz V., Bayamon, Puerto Rico