Walks in the Rain
March 3, 2014
I woke up early this morning.

I never do that.

Last night, I decided to set my sunday alarm for 8:00. I usually sleep in until 11:00 (or right through the whole day) on the weekends. But last night... I just decided I would wake up early. These past weeks have been cold and rainy.

And I love it.

I love everything about the rain. How it falls with a calm serenity without a care in the world. To walk in it can either be one of the best or one of the worst experiences you've ever had. And when the rain is finally done falling,it can collaborate it's magic with the sun's to create a stream of colors in the sky. Sometimes the rain continues to fall when this happens, so the colors in the sky become blurred, and it seems as though they may also rain down upon us in little droplets of color.

This morning I left the house as quickly and as quietly as I could, so as to not wake anyone (my mother). Of course, my cat was there to seee me walk out into the rain, but I was aware she wouldn't dare judge or follow me out.

I knew last night that it would be raining this morning...

Stepping out into the fresh morning air, I see that the rain looks more like mist than anything else. I put my headphones in my ears and put my black hoodie on and over my head. I lock the door and begin to walk slowly down the street. Without knowing it, I begin to smile. I mean really smile. Soemthing I havn't done in a long time. I even begin to laugh as the rain hits my face and slowly soaks my clothes. The harder the rain falls, the more exalted I feel. People passing in their cars even give me weird looks, sometimes sympathetic, sometimes just staring me down like I'm crazy. Maybe I am.

I'm only walking for about 20 minutes, but that's all I needed. That's all I needed to finally feel free.

I come home with my mother still asleep. I take refuge in my bedroom and lie down, listening to the rains soft pitter patter against the sides of the house.I think that this is something that I'll keep between myself and the rain.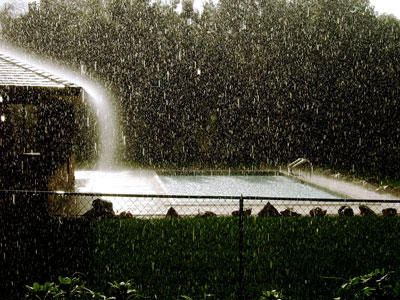 © Chelsea C., Auburndale, FL