Ivory Keys
MAG
A rush of adrenaline pours through me as the song ends. As I sit on the wooden seat, shaking my leg nervously, a solid lump forms in the back of my throat. I try to swallow, but end up choking, gasping for air. My heart begins to race and the walls feel as if they are closing in. A final chord sounds, and I glance down at the program in my clammy hand. My name is next. My mind is blank. My fingers feel weak and useless.

The roar of applause subsides: my cue to go up. I walk down the center aisle, my knees shaking with each step, and take a seat at the piano in the front of the room. Spreading the sheet music on the stand, my heart beats rapidly. The room spins around me, and all I can see are the notes spread out before me.

I take a deep breath, sit up straight, and begin, letting my fingers dance along the ivory keys. A beautiful melody emanates from the soul of the piano and I let go of all my inhibitions. The scales flow like a river of sound, reaching higher and higher, only to descend. My fingers move faster than my mind can comprehend. As I strike the final note, the sound lingers throughout the room.

Suddenly, the crowd explodes with applause. I rise to take a bow, and then quickly slide back into my seat and breathe a huge sigh of relief. I guess it wasn't so bad after all.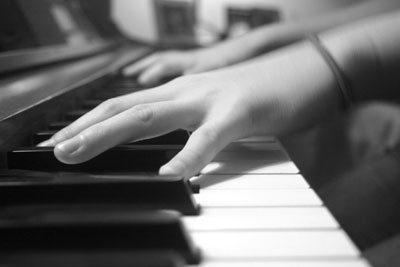 © Anonymous