Countdown
February 9, 2015
Dear Santa,
Thank you.
It got to me about a week late, but I received my parcel - I guess I owe my little sister an apology for telling her you didn't exist.
I've never received a GIFT like this one before, you know: it had a lot of small parts that made it mean so much more. Here's how it went:
It was 6:30 pm, smoke in the air, filling my lungs, making me DIZZY; I was stumbling before the party even began. I'll never be able to understand how two teenagers smoking cigarettes could create so many grey clouds. For a good hour, I stared in awe, music blasting loud in the background of my thoughts.
We took a lot of pictures that night. People started showing up at eight o'clock, bottles in hand, all different colours, all with different scents. They held onto the glass like it was the only thing keeping them alive. I had my own bottles, and a polaroid camera. I started off the night with ten pictures left, ten pieces of film; I left with four, and I don't remember taking all six, that's for sure.
There was a lot of bonding done that night; things come floating back after a while, buried deep in my bloodstream for days before they seep through the cuts that have formed bruises on my skin - scars I never want to heal, moments I never want to forget, memories I hope will never fade.
He's the main one; I almost hate to compare it to a scar, but something about the way this one looks on my skin reminds me more of a tattoo than a third degree burn: I chose to have him there, engraved into my skin, and maybe it was impulse, but I'll never regret it. It's the perfect design.
He had talked to me once before during that night, standing by the couch with his arm around my shoulders, talking about writing; I don't remember how long the conversation was - my internal clock was all over the place: minutes seemed like decades, seconds felt like hours, and hours passed by as if I was in a deep sleep, unaware of the passing time.
That's probably why it only seemed like minutes later when people started screaming, someone with a deep voice hollering, "EVERYONE GRAB A NEW YEARS KISS!" I didn't know what to do. Hell, I didn't even know where to look; but I chose the right direction for sure - I know that now.
There were bodies all around me, pairing off, and yet I couldn't spot a single familiar face, and there, in that moment, I felt so lost in a sea of four dozen people I knew - and then we locked eyes.
I don't know why I didn't look away - I always look away. I never know what to do. But this time, I didn't turn away, staring behind glasses, noticing two straps, red like my lipstick, that draped around his shoulders, the drawstring bag on the back of his grey shirt. I never saw it coming.
"Do you want a New Years kiss?"
A hundred thoughts swarmed like bees in my mind, buzzing frantically in the two tongue-tied seconds before I released a "yes."
Six seconds were left until midnight, and I remember counting down and feeling my heart jump with every passing second, the sound of his voice in unison with the tumultuous beating, synchronized with my own.
6...5...4...3...2...1...and then, it was midnight, and as if I'd known what to do all along, as if I'd been anticipating the moment for nearly eighteen years, I leaned in, and so did he, and our lips touched.
My internal clock malfunctioned again then, I suppose, because what had to have been merely seconds felt like precious minutes I wish I could relive, over and over again, playing like a broken record in my mind. His lips were soft, and smooth. I remember feeling my heart crawl up my throat and jump back down again when his tongue grazed mine. I don't remember how I responded, but he tasted like honey. His lips traveled over mine as he tilted his head the other way, and I followed, like turning in bed between pillows.
I think I pulled away when I heard voices again, after those long seconds of nothing but the sound of my heavy-beating heart - I wish I hadn't. I was bombarded with thoughts, but I could think of no actions, so I hugged him; I cursed myself for this (what a stupid girl I was). The second I released my arms and his hand left the small of my back, I was attacked by hugs from friends, words, remarks, comments that have all become a blur. All I could focus on were my lips: for the first time, I felt them. And what's more? For the first time in months...I actually felt something more than just numbness inside.
I wiped off what was left over of my lipstick after that. I guess I left my mark, too: a crimson tattoo. Well, maybe more than one.
I went upstairs, switched my shirt, switched my shoes, grabbed my bag, hugged my best friend (the host), and left through the door, all in thirty minutes.
I got home, changed into pjs, and was about to climb into bed when my phone lit up.
"Hey..." I don't know who gave him my number, but I'm sure glad they did.
Hey, Santa? Thanks again. Someday, I'll tell my kids my story, and they'll never lack faith in you. Thanks for restoring my hope - I remember how to feel again.

xo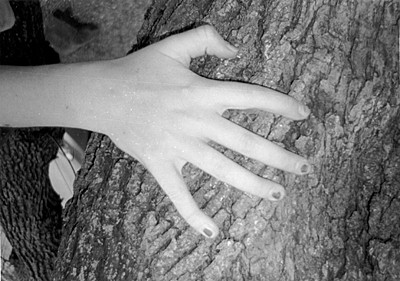 © Abbey O., Marblehead, MA