Nineteen
MAG
November 8, 2015
Nineteen.
Welcome.
It has taken a while for me to get to you, but I'm not complaining. Eighteen was sweet, full of good memories and long cries. Very refreshing.
I'm excited to see what you hold for me, what you will take from me. You are an awkward in between. I'm an adult, but I'm not. I'm a child, but I'm not. Like I said, you're an in between, and I'm not sure which side of the spectrum I stand on.
There were lots of experiences with eighteen that led me to you. The year started off with warm coffee, warm friends, and cold hands. I've always had a circulation problem, but my mom crocheted me a pair of fingerless gloves to keep my palms warm on those early morning drives to school. Those gloves would wrap around a thermos of black coffee, usually hazelnut.
Looking back on eighteen, I see lots of smiles. New friends, new faces, and new places. I would say it was a year of firsts, but then every year is a year of firsts.
I started going to church by myself, and God blessed me richly with a community of friends. He drew me close with an acoustic guitar and prayer meetings, intimate conversations in the basement of a historic church.
My work was published in a literary magazine and then a newspaper, several times. My love for words grew along with my confidence, or should I say my pride? It became a problem, but it was quickly shot down by challenges. I learned that I couldn't do everything, fix everything, or have everything. At eighteen, I was humbled.
At eighteen, I met a community of dreamers who took their vision to the largest venue in the county. Dressed in black, I had an opportunity to work behind the scenes and serve the Lord with them. All summer, I was up to my elbows in clay, working in a gypsy jewel store. Maybe that experience spurred on the dread locks and head scarves, or maybe it just unlocked a part of me I didn't know existed.
At eighteen, I permanently marked my skin with black ink, a stark contrast to my milky white. I gave myself a permanent reminder of God's grace, a permanent picture of truth, bound around my wrist until I turn to dust.
At eighteen, I received a change of scenery. Rather than underground coffee shops on Main Street and familiar faces, I saw a quickly developing campus and 15,000 other students, just as confused as me. At nineteen, I'm still confused, but my faith in the Lord is growing with my age.
I have no doubt that I am where the Lord wants me. I have no doubt that He has my days planned, and that nineteen is going to be a year of firsts and lasts and everything-in-betweens. There will be moments I remember well into my old age, both good and bad.
Cheers to nineteen, may you be a year of grace and growth.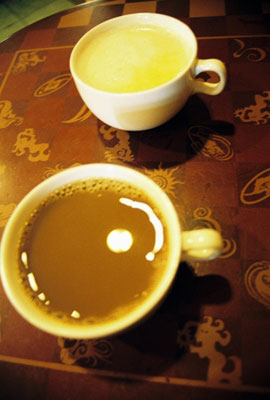 © Jaci S., Duluth, GA