The Road of Teen Politics
MAG
February 5, 2016
Being a liberal in south Alabama is a bit uncommon. When you live in the most conservative part of the country, it's expected to have Republican, orthodox organizations in high school. But what about Democrats? What about those who don't see the world in such a traditional manner?
I've never been much into the existing clubs at my school, so on a whim, I decided to start my own chapter of High School Democrats of America in October of 2014. No matter what your beliefs are, I'm sure the majority of us can agree that it's important to stand for what you believe in, even as an adolescent. With that motivation in mind, I contacted the state chair of HSDA and began what would be an incredibly grueling process to establish the chapter. When my peers heard the news, several of them confronted me in the hallways. "Are you joking? We're in Alabama. Nobody is going to come to your meetings," they said.

In all honesty, I believed the latter comment even before they said it. I was sure there were at least 20 or 30 students who would identify as liberal, but only so many would defy the common belief and actually attend the meeting. But, with encouragement from my friends and my dad, I proceeded.

Finding a sponsor was the most debilitating aspect of it. In November 2014, I sent emails to any teacher with the remote possibility of being liberal, starting with my own. My English teacher responded and asked for me to send the bylaws to our principal. Overjoyed, I emailed them and went up to her in class and asked what was next. "I'll go and talk to the principal in a few days or so and we can get things going," she said.

December rolled around. Then January. Then February. My excitement diminished with every passing week. I frequently approached her and inquired about the process, but she continually dismissed me. March. April. May. By the time the summer arrived, any enthusiasm I had about the chapter had dissipated.
During the first week of my sophomore year in August 2015, I went to my former English teacher's classroom to find that she was gone. Disappointed, I began to lose hope in the idea of an HSDA chapter. I kept telling myself that I would email more teachers, but procrastinated for another two months, fearful of another failed outcome. Finally, in October, I stayed after school to talk to my current English teacher.

"I would love to be apart of it, but unfortunately, I just have a lot on my schedule, sweetie," she said. She recommended one of the 10th grade history teachers instead. I smiled and thanked her, but waved off her suggestion. I then went to the AP Biology teacher, who was also the captain of varsity Scholar's Bowl, so I knew her on a more personal level. "Well, I'm not too big on starting a war on the science hall," she said. She nodded toward the classroom next to hers, where I saw in big, bold letters, "Teenage Republicans." She, too, mentioned the 10th grade history teacher. "This would be a pretty controversial club, and he loves starting stuff."
A nearly 7-foot-tall football coach, he was the last person I would expect to sponsor the chapter. I trusted my teachers' judgment, though, and sent him an email. He responded almost immediately and told me that he would be happy to do it and for me to come see him tomorrow. I couldn't believe it! I went to go speak to him during study hall the next day, and the students in his classroom started whispering and exchanging looks, but it didn't make a difference to me.

Thus, the chapter of HSDA at my high school was born. I was almost unbearably nervous for our first meeting, though. I didn't know what to expect, how many people would be there, or if just my friends would politely show up because I asked them to. By the contrary, a whopping 20 people came to the meeting. I introduced the purpose of the club and the differences I'd hoped to make. Overall, it was successful, and I was pleased with the turnout.

Now, we have monthly meetings and discuss current events. We're in the process of preparing for a debate with the Teenage Republicans, which I can assure you will be very interesting. In December, I was elected as South Regional Director for Alabama High School Democrats, and have recently been selected to write for HSDA's blog, the Progressive Teen. I'm going to Washington D.C. this June for HSDA's annual summit, where I will get to meet Democratic officials and tour the White House. In the 5 months alone since this chapter has started, I've received amazing opportunities, have met fascinating people, and have encouraged others to advocate for their beliefs.

I implore all of you to get involved in school or community organizations and work together to make a difference. There won't always be opportunities there for the taking. Sometimes, you have to create your own.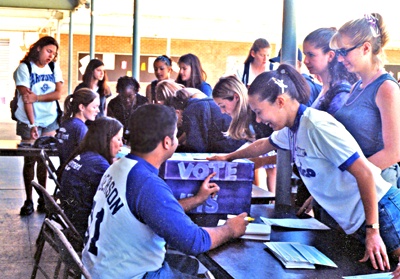 © Christopher A., Phoenix, AZ