I'm Sorry
March 30, 2016
"mispronunciation of words"
"Speaks with inconsistent clarity and intonation/volume."
"Cut off peers when they were answering questions and gave your response"
F*** my life and my stupid stutter. god forbid I screw up because I'm dyslexic. I get confused and i've had a pretty messed up week between hospitalizations and different kinds of testing for my heart.
I hate when people see me cry because I want to be that strong girl. At the same time, though, I hate when people don't notice how torn apart and broken I am. That's my life: I'm shy, independent, dyslexic, I have a stutter and I can't keep my own focus. And yah, sometimes I have to leave class and lay down because of how dizzy I get or my heart is racing at 201 BPM.
I'm sorry I'm not that kid who can place herself in a regular college class without her mother placing her in a class that is extremely stressful and ten times more difficult for her. Guess what? She's placed me in AP language next year… why can't I work like Emily or Ruby or all my friends who are girls who can read with the slightest of ease... Why do I feel so stupid when I can't see the board or hear correctly... Why am I so sensitive that when you said that I was supposed to send the paper to you this morning I wanted to cry...
I sat back down wanting to feeling it come to me. The tears were ready to go, but I held it back… my hearing is bad I have gone deaf over 4 times, I've had tubes done 5 and I still have trouble hearing out of one of my ears. I can't even tell you which one because I can't do something as simple as telling you my right from my left or my d from my b. I'm sorry I'm not a perfect student. I know you don't expect that but when everyone else can type a normal to above average amount of words in a minute and you can only type 27, talk to me and tell me how it feels to see your friends pass while you trouble to create a simple word without saying it 3 times, I laugh it off... I say haha so real sounding, but they are unable to how fake it is. How fake I feel when I smile or hold my head up high… all to hide my imperfect screwed up self. I'm so screwed up, I can't even control my own heart--forget my voice or my hearing. So excuse me for stuttering and not keeping consistant voice or accidently interupting someone. I'm not going to be a teacher so once again... I AM SORRY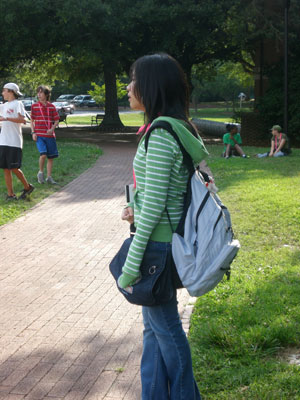 © Lucienne B., Parkland, FL