That Summer
January 28, 2017
Every year was the same, but different. Every year had outstanding problems, contrasted by moments of pleasure. Every summer was dull and hazy. The wind would take my friends away on ventures and they would not return to me, until the beginning of fall. The ugly problems would raise their head at me and roar aggressively for a bit and then die out later on. I would poke at them- as I was too afraid to stab them- I would hope that the little holes I created would be enough to take them down, as holes can overwhelm a large ship. They usually did, but their death was prolonged this way.

This summer was not the same. I was going to camp this year. I thought it would be fun, I thought it would be a nice get away, I thought I would make new friends. Really I hoped these things. My friends all had various things, various problems and plans- so they couldn't go with me. It ended up that I was about to board a bus, to go states away, with only one person I knew. One person and she was a chaperone, a young adult, a leader, a supervisor. As we loaded onto the bus, I noticed there was an odd number of girls, there was a group of two best friends, another alike group of two, a large pack of howling boys- who stuck together, and one group of three girls. The third member of the trio, who seemed a bit of a third wheel, was almost in tears as she was alone, so I asked if I could sit with her. She said yes and her friends were very pleased with the arrangement.

As we drove, my neighbor remained quiet for a while and played an old, portable, video game. Eventually, we started remarking at the sights and trees, out the window. After this, we started talking about ourselves and how it was our first time out of the state, without our parents. We spoke about our families, schools, lifestyles, and how smelly the boys were. As we drove through Tennessee, I remarked at the beauty of the trees, my companion agreed and admitted that she had always wanted to move to Tennessee. I learned her name and other things and by the time we arrived, we were friends. After our arrival, we found that though we were different, we had a lot in common and seemed to mesh better than the trio. Her friends wanted to follow a boy around for most of the time, but she wanted to really experience the camp and learn things, as did I. We ended up splitting ways with them for most of the trip. After this, my companion said she wanted to step away from her comfort zone and zipline, so we decided we'd go on the last day we could.

When the day came, we set out for the three story zipline with our two leaders. Though these leaders had not stayed by us the whole week, they had done various activities, in order to stay involved with us. One of these such activities was paddle boating with us earlier on the trip. My leader had let me park our boat and I was very pleased at how well I had done the simple task. We switched partners this time and started climbing the many steps, as the line trudged along. Once we got to the top, I felt the fear surround me. I wasn't sure if I could do it, but my friend and her partner went first. They went smoothly, but watching them glide through the air made me uneasy. I could barely watch and had to wait a few minutes before attempting to go down myself. My new partner tried counting to a number to go on, but after a couple false alarms, she went without me. I felt bad for the people behind me, but they cheered me on and I could tell my friends were pulling for me, from the bottom. I knew I would regret it, if I chickened out and that I needed to step out sometimes. So finally, I did just that, and stepped out. The harness was strong around me and the air was thick and encompassed me- like steady hands from above. I looked about half way down- the sight was pretty and the adrenaline was thrilling. Once I got off that harness, I felt a surge that I didn't feel before. That evening, I didn't just poke at the fear- I stabbed it.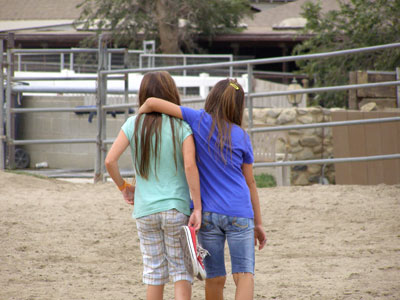 © Austin K., Studio City, CA