Sharp Shooter
November 7, 2018
My hard work, my blood, my sweat, and lastly my tears all poured into one game. The one game that my heart longs to play during offseason. My large hands skim the leather ball as it bounces on the wooden floor making a thump echo throughout the court. Water perspirating trickling down my face as red as a tomato due to me being fatigue from running back up and down the court at the best of my capabilities. My head longed to play the game of basketball.
"K," Coach Will yells to me as I snap out of abyss. The game of basketball is more than just a physical game you have to be mentally strong to knock down the pain radiating through your body. The pain is burning through my skin as I attempt to catch my breath. "Be more aggressive and go faster, come one let's go," Coach says as his voice echo through the gym as if we are on top of a mountain. The ten cones placed carefully throughout the key making a crescent shape lining up just in front of the three-point boarder line. My Kyrie Irving preventing me from falling face first as I shoot swiftly move in front of the cones as coach passes the ball to me. My freakishly large hands feel the ball then I set my feet for my shot and watch as my shot goes perfectly into the hoop skillfully not hitting the rim gliding against the net. That feeling is the best feeling. The feeling of content as if you have made yourself proud. Is that odd? Basketball has that effect on me that tingling of happiness and that butterflies in my stomach.
Months have passed now, I have been practicing past my capabilities. I am mentally strong and physically even though I am short. Then I realized I am a sharpshooter. An athlete who takes the bliss of making their shot. An athlete who is confident of their capabilities. An athlete who loves the game they play even if it is dangerous. That happiness that goes through my body is the love for shooting. As a point guard and shooting guard, you realize that the bliss of shotting radiates through your body. That dribble into ur shot and the genuine smile on your game face appears when you have made your shot. I realized that it is not odd. All athletes feel this bliss. As for me, my sharpshooting capabilities go in with being mentally and physically strong throughout your limits. I have realized to be a sharpshooter it doesn't matter if you are short nor petite. I am a sharpshooter who practiced for months to get where my happiness is.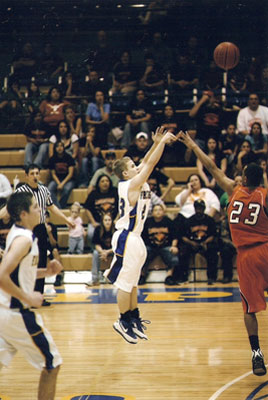 © Jordan M., Lubbock, TX