My Best Race
MAG
Serenity had left me, and restlessness rushed through my body like wind in the trees. Two hundred runners surrounded me, and we were all anxious for the race to begin.

"Runners, set!" the coach barked over the chattering crowd. Then BANG, we were off. With arms pumping, I tried to keep up with the faster girls on our team. We tore up the green-carpeted hillside and around the cornfield. Beside me, a girl tripped.

"Don't look behind you," I whispered to myself. "Just try to catch up with the person in front." I set my pace with the runners next to me. If they sped up, so did I.

After a mile of turns and hills, we came to the person calling out the times. If I kept up my pace, I could break 15 minutes! Even though I knew it was unlikely, I continued taking long, easy strides.

I stuck tight to the turns and passed a number of people. Soon, my thoughts of Only one more mile became Only half a mile more. Before I knew it, there was just a little more than a quarter of a mile left! Even though I was tired and thirsty, I kept pushing myself.

The hammering of footsteps and the exploing beat of my heart echoed rhythmically in my head. I closed my eyes for a while and took a long, deep breath.

Rounding the last corner, I heard somebody boom, "Two minutes to 15!" Unless I sprinted faster than I ever had, I knew I couldn't break 15 minutes, but I could still get my best time. Determined and energized, I dashed down the last slope. I saw a teammate calling out times, but I couldn't hear her through the roar of the crowd as another runner stumbled over the finish line.

Only 10 more meters, I told myself. Try to pass one more person. Teammates were cheering my name as I sprinted across the finish line.

The stick they gave me with my place on it felt cold in my hands. Shaking and gasping, I slowly wrestled my name tag off and gave it to the girl collecting them. I felt like the wind had been knocked out of me.

With aching limbs and a pounding heart, I dragged myself to the person recording the times. The sheet read 15 minutes and 20 seconds.

Okay, so our girls team didn't place, but that didn't matter. After all, I got my best time by 40 seconds! I learned that you can always push yourself a little harder, and I'm not just talking about running. You can push yourself and do your best in everything you do!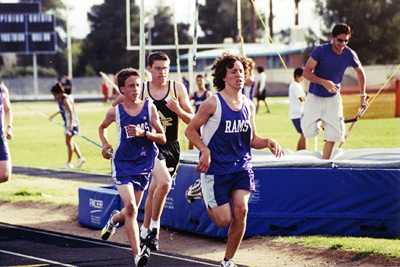 © Anonymous