Two Sides, One Voice (To Calm The Nerves)
September 18, 2010
Why are you nervous?

I dunno.

Well, think about it.

I'm afraid of not being the best I can, I guess.

And?

And I'm afraid of the pain.

What pain?

The one that sometimes forces me to stop running.

But you can get through it.

How?

Ibuprofen. Strength. You always do.

But what if I don't?

Then use the Ibuprofen as a placebo.

Hmm. But-

No buts!

BUT I'm scared!

Get over the fear. You'll never get anywhere in life if you always live in fear.

But...

Now you're just being stubborn. Let it go. You're fine.

At least I'm not a senior; no one expects under 20 minutes or anything from me...

Exactly! That's the right way to think! Just have fun!

But what if I let my mom down, my coaches, my grandpa?

Let them down!? Listen to me, now. Your mom gets it. Maybe it doesn't seem like it, but she does. Your grandpa and coaches, well, they're just excited for you.

So all I really have to worry about is my mom.

No, I told you- she'll be proud of you, no matter what.

I'm also scared of throwing up.

I doubt you will. You've done things harder than this.

Have I?

At least AS hard. Dude, you did a freakin' 6:40 mile this morning and you were fine.

...

And remember how quickly the two-mile time trial was over?

Yeah...

So, see? You'll do great. I promise. Just let it go and have fun.

Okay...

No, OKAY! Enthusiastically.

Oh-KAY!

Nope, that was irritated. Try again.

OKAY!!!

There we go! Although I sensed some sarcasm underneath that...

If you knew what I felt right now...

Trust me, I do.

Why do I run?

Because it makes you feel strong.

But I feel weak.

How many people do you know personally that could do this?

Not tons.

Yeah. Okay, think about this. What would it take for you to start WALKING, to GIVE UP, during a race?

...

...

...a lot, I guess.

Right. So go for it.

'Kay.

Now go do your math homework before you're stuck with a pile of late/unfinished work before the 3rd week of school even starts.

Got it.

Good.

And...

Yes?

Thanks.

No problem. It's all you, girl. You got it.

-------

Hey. I'm back.

You're back?!

I'm back.

What is it NOW?

I need help. My math is hard.

I can't help you with math, dude... not my thing.

No, not that! I just mean... Well...

Okay. We're doing this one last time, then I'm DONE. Get a grip.

...kay.

Less than half an hour of running. How long did you run for on Saturday?

...at least an hour.

'Kay. So. Yes, it will be hard. But you know what? The things that don't kill you-

-only make you stronger, I know.

Believe it.

I will.

We good?

Yes.

Yes!

YES!

Adios, then.

Bye.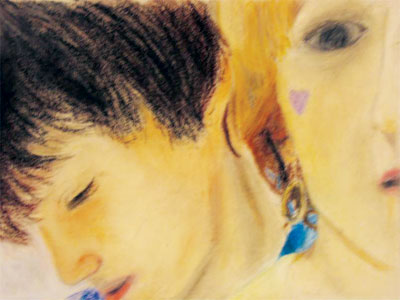 © Natalie D., Ames, IA