Football memoir
October 27, 2014

As I walk onto the football field for the first game of the season I feel the cool air rise up my spine. I feel the energy from my team as we form together as one, we stand in the corner of the field ready to run out. Our helmets give off a brand new polish since we haven't used them that much, they shine in the light giving us a bright glisten of blue and gold. We huddle around and form a circle, our captains start a chant and we follow. When the announcer announces us we storm onto the field breaking the sign, when I take my first couple steps onto the turf I can feel the individual pieces of rubber start to form around my cleat, it feels like a tempur pedic bed the way my cleats sink in, as I walk onto that field for my first Junior varsity game I remembered the first time I had ever gone onto that field, for a chiefs game, the field had looked like a pro stadium that only men could play on, but I just a little kid not knowing that one day I would be a star on that field and I would be where I was today. I look at the crowd just like I do before every game, I give a little wave to my family so they can hop up to cheer my name. When I see the other team on the other side of the field butterflies form in my stomach, but then I look back at my team and know that we will not be defeated since we have something that most teams don't have, a bond that can't be broken, we are a family.

  The night begins with a kick and cheering all around, giving the team excitement and a boost of energy. When we kick the ball it flies into the endzone and the other team receives a touchback. Our defense runs out onto the field to put a halt on the offenses schemes, While I watch I feel the cool air run down my spine again,  It makes me shake. I watch the coach call our play and our linebacker relays it to the rest of the defense. Our sideline starts to get rowdy and we all start to chant, That's the moment I realised that we were all in this together even though some kids knew they wouldn't play they still gave it their all on the sideline. The defense got a three and out  stop not letting the other team score and that was my cue to go onto the field. nine other players and I formed a huddle with our quarterback in front giving us a demand, like a huddle in the choir we listen to what the quarterback says to do He gives us the play and we run to the line of scrimmage.

  In the book A long way gone by Ishmael Beah, A little boy realizes that the world is more than just fun and games. Ishmael describes how life in the country of Sierra Leone had changed dramatically in just a couple of month's. He was just a little boy enjoying the peacefulness and company of his friends and family, when suddenly everything had changed. As a little boy he had to see things that no kid should ever have to witness, he had to join the war when he was only a young teen and it was something that impacted him and made him fear for his life everyday. He knew that there was death all around and as a kid he had to understand that it was time to become a man and to embrace the fact that he could die at any moment.   As I look at the kid across from me I know he's thinking what i'm thinking and that is that we are about to go to war and the best man will come out "alive". Football is a game of  war without death, a group of brothers are fighting for each other in the "trenches" trying to succeed and win the battle against the other teams. Before the ball is snapped everything is at peace, there is nothing but silence on the field which gives me time to think and evaluate about how one mistake could "kill" the unit as a whole, so I take my time to observe the defense and that's when  I go into my three point. I looked around for a second more to see where I was going to go and who I was going to tear apart. I shout out " uncovered I got two, I got two" My teammate next to me yells out " covered I got one, I got one" and everyone else on the o-line follows. Our quarterback calls his cadence and we burst out of our stance like lightning exploding in the sky, Our stances and steps are close to perfect since this has  been the same routine since as far back as our first year of football. When I get out of my stance I realized that it is now time for me to fight the way I have been doing all my life. The battle had begun. I give my all until the whistle and I know the players next to me had did the same since it ended up to be a great play with a great gain of yards. We run back to the huddle and our quarterback slowly trots over and repeats the process of calling a play once again and after he calls it I look back to one of my wide receivers and tell him that its his time to shine, He looks back and nods. He knows that he will do the best he can and that if he does  nobody will stop him. We run up to the line and I see the kid I will face once again, But this time I know he's not better than me so I make fun of his weight by  saying "I'll give you 10 bucks if you can get passed me and my partner so you can buy all the double cheeseburgers your big body will desire" my teammate looks at me and starts to snicker,  then the kid across from me swears and says he's going to devour our quarterback and thats when I start to laugh. Our quarterback once again calls the cadence and we go back into pass protection, The player opposite of me comes to me and I push him inside passing him off to my teammate  he picks him up with no hesitation and doesn't let him anywhere close to the backfield. We give our quarterback a period of time that feels like eternity to throw and he gets a deep throw off to a wide receiver wide open downfield, when he catches the ball he shakes off a defender and runs for the endzone and scores. Our unit runs down the field and I can hear everyone going crazy, This shows me that our team had made it just a little closer to becoming a family.

  The Game went on and we won by thirty-five , and the season had ended up perfect with a perfect record. The first game was by far my favorite part of the season  not only because we won by a lot but  that first game was the beginning of the long journey to gel from a team into a family. I never knew that a sport could teach me so much about life, It has taught me how to put faith into others, and when you do they will put faith in you .But the main lesson that I've learned from football is that anyone can be a leader, it doesn't matter who you are all that matters is that you can guide someone or several people into doing their job or even the right thing to do. Being a leader is a big trait to have especially in sports and that's something I inhabited over my junior varsity season and it all started with one game.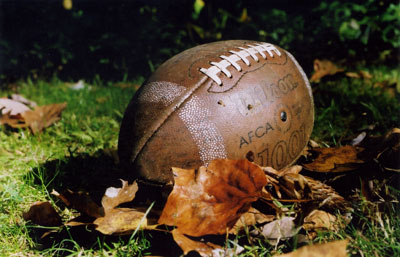 © Michael L., Bethesda, MD