Some Pig
MAG
I held my breath and entered the shed. Slit open, the 200-pound beast swayed, suspended, while its entrails oozed. The pig eerily resembled my favorite childhood character, Wilbur, but evidently this one was not "some pig." It saddened me to think that a spider had not befriended and saved this animal. The term "culture shock" was an understatement as I stared with bewilderment at the scene.

For about a week, my Spanish host family had been talking about visiting the small town of Torrijo, which would be celebrating a homenaje al cerdo. During this homage, the town would kill a pig to make morcia and migas.

Outside the shed, my host mother Monica introduced me to her aunt. Dressed in a scarf and thick skirt to protect against the weather, the aunt greeted me as if I were a long-lost relative. Her glasses fogged with frost as she asked where I was from. She was mixing rice and pig's blood in a large bucket with her weathered hands. Next to her, other women were doing the same while yet another cluster of elderly women shoved the concoction into intestinal casings.

"Te gusta, verdad?" [You like it, don't you?] Monica asked. Her inquisitive eyes scanned the plate where I had been looking, then back to my face. Slowly, I cut the morcia into bits. My eyes glazed with terror as I stared at the food. Did they know how unsanitary this was? I shifted in my chair, foolishly hoping to avoid the dreaded moment.

All eyes focused on me as the Spaniards curiously looked for the approval of the extranjera. How could I say no? Refusing to eat their food would be an insult, yet the experience could kill me. I could not help remembering the scene in the shed. The food before me seemed as though it had just been ripped from that pig. I slowly lifted my fork, feeling I was about to commit an unforgivable sin, and my innocent teeth became stained with sacrificial pig blood.

Surprisingly, the morcia did not taste bad. If I concentrated, it tasted like a spicy hot dog. Relishing the thought of having a good old American hot dog, I helped myself to seconds, delighted with the crunchy texture and succulent taste.

Cheers of joy broke from everyone at the table. The extranjera was no longer an outsider. I did not know that such a trivial event could be so rewarding. Through this experience I realized that there was more to my journey than just learning Spanish. By stepping out of my comfort zone, I had opened myself up to embrace not only the people of Spain, but also their deeply rooted customs, traditions, and foods.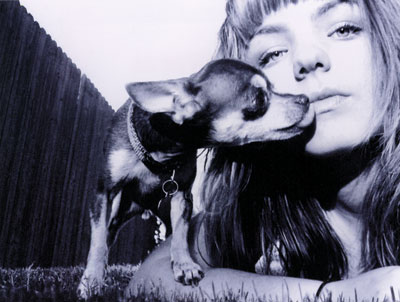 © Anonymous